Click to Download Your Free Heritage Pickling and Culturing e-Book Now!
Instant Download, NO Registration Required!
The interpretation can be rather subjective. I find that self-sufficiency often conflicts with the popular notion of "minimalism".
How can I preserve my own food without the proper tools? Those tools take space.
How can I garden without my shovel and rake? I have learned I do not need more than a shovel, rake, and wheelbarrow, but I DO need those! A hoe, and a trowel are handy also. And the containers for the container garden. and the greenhouse. I've already exceeded the "minimalist's" idea of minimalism, though my list for gardening, even a large garden, is QUITE a bit smaller than that of other people I know, who cannot manage to garden without a tiller, hoe, and other specialized equipment. I also store some seeds year to year, and must have a spot to put them, often in the fridge, which is too small for this in a tiny home.
If I have livestock, I must have buckets and a storage area, and coops and hutches and shelters. I need a cupboard in the house for the assorted vet supplies and herbals for the animals. And I MUST have livestock, my health is so much better when I do.
If I make my own clothing, or mend damaged clothing, a sewing machine is required, along with a mending kit, and fabric, thread, and notions. I do needle work, so my crochet hooks, knitting needles, yarn, crochet thread, pattern books, and storage baskets are necessary. They are necessary for wintry evenings when we catch up on hand work, and for fall when we are preparing for Christmas, and for the rest of the year during those times when I MUST rest, but do not wish to sit idly doing nothing.
My husband's woodworking tools and automotive repair tools are essential to our ability to provide for ourselves, along with tools and supplies for building cages, fences, and repairing greenhouse and shelter structures. We can live far more frugally when we have supplies of lumber, wire, screws, and various other bits and pieces, bought in a time of our choosing, rather than wherever we happen to be able to get to in an emergency.
Our self-defense equipment and supplies are needed, as well as hunting and butchering equipment and supplies, even though we go pretty basic, these things still take quite a bit of space.
Our library is also an essential element. We have a good library of DVDs, for uplifting entertainment which helps us both unwind and relax, and which helps boost us emotionally, especially in the winter when evenings are long, and there is stuff to do with our hands while we watch something we enjoy. We used to have a large library of books, but we no longer have time for recreational reading (I can watch a story and crochet at the same time, I can't do that with a book), and though I LOVE reading, it seems the only books we can justify now are instructional books. We have a fairly good increasing collection of DIY and animal husbandry books (we once had a large library of this type, but it was lost in a malicious disaster). The library requires shelves, and a place to put it (around the walls of the house if nothing else).
And then there is the food storage… There will NEVER be enough room for that, nor enough jars, no matter how many we acquire! The food storage that allows us to buy food on sale, and preserve it so we don't have to pay high prices for everything. The food storage that allows me to preserve foods that are healthy, that I can fix in a matter of minutes, so we do not have to buy commercial quick-fix. And the food storage that sees us through the economic vagaries of the current unpredictable national political climate, with a minimum of hardship. The shelves for jars, the freezer, and the extra fridge that allow us to harvest from our garden, or accept extra from the gardens of family and friends, or take advantage of a sale on produce, or raise our own animals and have a way to store them after butchering, so we are not dependent upon the prices and production methods that are commercially popular, but not so good for the bodies in our household. The shelves to hold the empty jars until they are filled again, and the space to put the dehydrator, the canner, the juicer, the slicer, the grinder, the food mill, and the buckets, bowls, and pots that are required for the processing of the food.
The newspapers we store for cage liners, the boxes we save for shipping product, the shelves and bins for growing fodder or microgreens, the place to put the herbs that we grow indoors, and a place to put the plant starts when spring arrives.
Self-sufficiency takes space, and organization of a large body of belongings. There is no way you CAN do it on a minimalist's philosophy, fretting over every square inch of space that it takes, fussing over every single object that it requires. Every single person who strives to be self sufficient is constantly battling an insufficiency of space, trying to fit in just one more shelf unit, just one more cupboard, just one more storage bin, rearranging furniture and storage rooms one more time, to see whether there is an un-thought-of arrangement that will allow them to fit just one more piece of equipment into the room. They expand their home, or a kid moves out, and they shout with glee over the spare room (while grieving the expense, or the absence of the child), and within moments of getting to work arranging the extra space, they are already wondering how to fit it all in, and discouraged that there STILL is not enough room! They dream of having a dedicated room for crafts, or canning, or a room large enough to hold ALL THE JARS, or a shop that is large enough for the projects they really want to do. And they never get it.
I could never live "tiny". Not that I am unwilling to live with little space, I've done that many times. But I did so in want. And I did so when our situation required dependency. I cannot do it with full self-sufficiency.
Indeed, a tiny home, by its nature, demands dependency upon frequent shopping, frequent laundry, and almost NO DIY. It works for someone in a city who does not mind shopping every other day, and who does not need nor expect to do anything for themselves that requires tools, equipment, or supplies on hand.
Once you pursue real self-sufficiency though, more space is required, even if it is just a lean-to out back. Pioneers had small cabins, but they also had barns to store the equipment required for daily production. I have a small juicer, they had a large cider press. I can make soap in the kitchen, they did it in the yard, with a large cauldron that was stored in the barn. However you do it, you have to put the supplies SOMEWHERE.
It is a great temporary option to get started, to keep costs down – If you DO keep them down – by minimizing square footage. But most tiny homes aren't a significant savings either, you can generally find a larger home for far less, due to the expense of miniaturized elements in the home.
If that is your dream, good on you. But if your dream is to homestead, and be truly self-sufficient, a tiny home is not going to be sufficient to get very far, unless you have a lot of additional storage. And then you aren't REALLY living tiny. You are just doing the VISIBLE part of your living in a tiny environment.
If you have a small house, and a second house with a kitchen and laundry, and a third storage shed to hold all the preservation equipment, and a fourth heated building to hold the food storage, and a fifth shed to hold the rest of the stuff that doesn't fit, you aren't really living tiny! You are just living in five houses instead of one!
I already know I am doomed to spend the rest of my life constantly questioning what I can throw out, what I truly need and don't need, and simultaneously lamenting the lack of space to put the things I DO need to live the life I want to live.
Tiny is cute.
But for us, it just is NOT practical for a long term solution.
I hear stories of people free-ranging their chickens, and running into objections from neighbors. I would not feel the need to comment on this, except that I KEEP hearing this. Over and over!
It is usually a variation on this:
"My neighbor is complaining that my chickens poop on their car. How am I supposed to deal with him?"
Or something like this:
"My neighbor's dog won't leave my chickens alone. I don't want to fence them up! What can I do to protect them from the dog?" (And it turns out that the dog is NOT on the property of the chicken owner, but on the neighbor's property where it belongs.)
FENCE YOUR CHICKENS FOLKS! Really, how rude can you be? Free ranging does NOT mean your chickens can go wherever they want! It means they have a large area over which they can forage! Fence them in!
If you do not contain your chickens and keep them from pooping on your neighbor's car, eating from your neighbor's garden, pecking the fruit in your neighbor's trees, then YOU ARE THE BAD NEIGHBOR! They are not!
And then you top it off by maligning your neighbor because they don't love your chickens messing up THEIR property!
Why should they put up with your chickens? Will you put up with their dog pooping in your garden? Do you want their cat lunching on your chicks? Will you accept their poultry roaming YOUR property as though they own it? Should they free-range their goats, and let them wander your property eating whatever they can reach? Should we just dispense with livestock fencing entirely and declare the entire neighborhood open range?
If you think your chickens should be able to wander where they please, and do just as they please, regardless of property lines, then you do NOT have "free-range" chickens. You have FERAL chickens, which belong to nobody, whose eggs you won't find, which are food for every opportunistic predator, and which the neighbors can exterminate on sight. Domesticated chickens require responsible CARE, which includes limiting their range to the safety of YOUR property.
Free range does NOT mean you have some magical license be rude to other people because you are free ranging your chickens! The objective of giving your chickens increased freedom does not give you license to violate property lines and use your neighbor's land to feed your livestock! It means you have an OBLIGATION to be RESPONSIBLE for assuring that your chickens (ducks, geese, whatever) do NOT mess up other people's property, and that they STAY on YOUR land.
A fence is NOT an unreasonable confinement, even with a fairly small yard. They are chickens, for pity sake! You would not let your kids run wild over the neighborhood without supervision! Why would you let a brainless bird do so and expect it to stay where you want it to stay? (If you expect them to stay on your land, you have to fence, they require it! If you do not expect them to stay on your land, then you are thoughtless, and inconsiderate, both of your neighbors, and of your chickens.)
Fence your chickens! Put up a high fence they cannot fly over. For THEIR safety!
And then go apologize to your neighbors. Take them some cookies. They deserve it for not dispatching your chickens on sight!
Kevin chopped the head off the extra male guinea (with only three hens, we did not need two males). I skinned and gutted it (he helped hold it when things got tricky). Even a year ago I could not have done that. But now, I can. I can, because I must.  We skinned it because plucking is nasty, and until we have a plucker, I'm not doing it again. Had plenty of that as a kid, can't stand the smell of wet or burnt feathers.
We go the job done on the guinea, and then managed to dispatch one of the chickens we had lined up for the day, before we realized that the chickens must have been doing a rain dance. The heavens opened, and drove us indoors, with only two of the birds finished. The rest earned a reprieve.
Having no fridge space to rest or brine the birds, into the freezer they went. I pulled the guinea out yesterday, just after noon, and popped it frozen into the crock pot. Having never had guinea before, I just lightly sprinkled it with seasoning salt, and put a little water in the bottom to keep it from drying out completely.
The resulting bird was somewhat dry (likely leaving the skin on would have helped, since the skin was very fatty), but VERY tender. Tasted like Turkey, though the white meat is about the color of dark meat on turkey, and the dark meat is more like the dark meat on a duck – distinctive difference in color between the two, just darker. Very good flavor. Did not mess me up like some meats do either, seems to be a good one for me.
The skin that we removed was thick with yellow fat. There was also a lot of yellow abdominal fat, much like duck fat. I managed to salvage just a bit of it, but most was removed in the skinning and gutting processes.
Guinea liver is a little stronger tasting than the wonderful chicken livers I've been getting from the chickens we raise. But it is NOT as strong as commercial chicken liver.
If you are raising guineas for food, just think of them like a very small turkey, with a smaller and flatter breast meat. The bulk of the meat is evenly divided between the breast and the thighs. The wings have a little at the top, and the legs do also, not much otherwise. Much shorter meaty parts on the wings and legs than what chickens have. But it seems to be easier to bone out than chicken or turkey.
I'd suggest that this would be good as a substitute for wild game in many recipes, but you can also just sub it for turkey if you are more prosaic. Guinea Salad Sandwiches would be excellent.
I let the carcass go overnight in the crock pot, after adding some water. Keeps it from getting stale tasting like it does in the fridge. Today I boned it out, chopped the meat, and tossed it all in with some celery, carrots, onions, and sweet peppers, sprinkled with a little rosemary and seasoning salt. In a couple of hours, I'll add some brown rice.
Guinea Rice Soup for dinner. Life is good.
Update: The soup was good. Everybody ate it without complaint, along with some hot biscuits.
We have used Hostgator for hosting for more than 10 years. They were old friends. The best in the industry. Support rocked.
We didn't just have a hosting account with them. We had a dedicated server. That means not only my personal websites, but all of my client websites were in that space. Our business really does depend on good hosting, more so than most.
Three years ago, support started to take a dive. Then specs dropped. Prices stayed the same, while other competitors began edging down. They started throttling functionality in the background where they thought users would not notice.
I switched servers with them, and it was much more difficult than it had been when we set up our original dedicated server with them. And what we got for the money was nowhere near the same quality or performance as it had been before. And I kept finding things that had been turned off – some during the move. Some after. Months after. Things kept changing. Always for the worse – things that were not SUPPOSED to change when you have a dedicated server.
We struggled on though. Moving a server is a major commitment in time and money, and it is very hard to find a replacement company that is actually better. You don't do it unless you have to. It is just too risky. And expensive – since you have to pay overlap time while you are transferring.
So what was the thing that made us finally leave?
No Support. This is the thing that made us know we had to move, eventually. Tickets go unanswered, or are dodged so they take too long to resolve (first they dodged, then they simply quit answering). You have to call – and for some issues that is difficult, especially with longer and longer wait times since the poor response on tickets is pushing everyone to phone support.
Support first became so bad I could not get a response on a simple question without them sending an email back saying they have to verify my identity by having me reply to the email (to prove that the email request was coming from a verified email address – when it had been SENT from a verified email address)! Really? That stupid?
My last request was made from the verified email address, and included a second identifying factor which they require on the kind of request I was making. They took FIVE DAYS to respond. And they told me… you guessed it… that I had to supply TWO FORMS of verification (which I had already done) in order to carry out my request. They suggested I might want to try chat (which I hate) or call them (my phone has spotty reception).
Email support now consists principally of having someone send you a canned response to either verify your identity (even if you already did), or with a reply which has nothing to do with the problem you are having – it is obvious they are hiring people who do not want to actually provide support, but who make their money each day by simply sending meaningless replies until the next person comes on shift, at which time you have to explain all over again what it is you needed because they NEVER read the back thread.
They then cut off email support, and required that all support tickets be submitted from inside the client area on their website. Ok… I tried that. They never responded at all when I did.
The thing that made us HAVE to leave is that the security issues have been worse and worse. They set up the new server with things disabled that would have saved us a lot of time – they left off some security features. They have changed settings in my system – no one else had access, and if it were breached the invaders would have done worse, so it has to be coming from Hostgator.
In past years, when things went wrong on our server, they would email us, and disable the offending files. We would clean up the mess, and plug the security holes.
That has now changed. They no longer "monitor" your site for security issues. At least this is what they tell you. Only they DO! Because when they find them, they shut you down – if ONE account on a dedicated server has a problem, they will shut down the ENTIRE server. And they no longer notify you that they have done so. Suddenly your sites do not load, or your control panels cannot be accessed, or your bandwidth is throttled, ftp is blocked, or your email stops working, and they just smugly punish you for something you have no idea is happening. It can take days to resolve the issue with them sufficient to get the functionality turned back on, and in the mean time your business is dead in the water, and so are all your clients.
Worst, the actions they take often REMOVE your ability to even fix the problem they are punishing you for! Not only that, they REFUSE to help you do the things they have stopped you from doing, and REQUIRE that you do it before they will turn anything back on! Beyond moronic!
They will not longer assist with any security issues. They are selling a service listed as "managed server", but they no longer DO any of the things they used to class as being part of the service. A Managed server costs about $100 per month more than an unmanaged one. I do not know what I am paying for anymore, because they do NOTHING for us now that they would not do for an unmanaged one.
And that is not all… they have decided that not only will they not provide many of the services they used to provide, they refer you to a third party company whom they say will be happy to charge you to provide the services. Their entire server setup process, and support process, is now designed to DRIVE you into using that service. I can't prove it, but it makes me think that they may be owned by the same umbrella company. The service costs $29 per month… PER WEBSITE. Yeah. 20 websites.
And then there is the password issue. When they have to work on the server, they temporarily switch the password – meaning I cannot access it. They used to do this in the wee hours of the morning, but now they do it whenever, and frequently (though I have no idea what they are doing, because all updates are automatic, and they are not supposed to be messing around with things that require an access password). I will try to access, and find that I am blocked. I will call, they will tell me they are working on the server. Two hours later it will be back. This used to happen maybe once every six months. Now it is far more often. No advanced notice.
Hostgator has sunk to such depths that we cannot function as a business anymore on their service – or lack of it. I simply cannot call and be put on hold for half an hour every time I need to resolve an issue, and I cannot work with a company that shuts down my server and does not tell me, when there is an issue with a single website.
I've been patient. I've watched it get worse and worse. This is the end. Farewell Hostgator. I can be a loyal customer as long as you hold up your end of things. I will not be a loyal customer when you drop the ball again and again, and especially when you set me up for failure. My business relies on my hosting service. I require reliable partners to help me stay in business. You are no longer a reliable partner.
One more company destroyed by turning into a publicly traded company.
——-
And then there was A Small Orange. The sales guy was great. He said support would assist me with the things I needed. Reviews were mixed. They always are.
It took several months to get to a point where we could afford to move. When we finally did, we gave ourselves plenty of time, but we did still have a deadline. It was 4 weeks away so we thought we had plenty of time.
I had thought Hostgator had sunk to the depths. I did not realize any company could be worse.
It took a week just to get the order processed. It took another week to get the server provisioned. I then submitted a support ticket because the welcome email did not have all of the access info that I needed to configure the server. No reply. Silence.
I tried chat. After an hour (a half an hour after the progress bar said I was the next one up), I gave up and requested a refund. If I cannot even get the info I need to set up the server, I am dead in the water. All this, against a deadline – I am already paying an overlap, the deadline for paying another month on the old server is fast approaching, and I am wondering how in the world I can go forward.
As it would happen, the ducks I ordered never came in. The money I held for them was still in the account, so I used it to try yet another company. The jury is still out, but they did in 24 hours what A Small Orange and Hostgator failed to do in much longer. The server was provisioned, the welcome email sent, and support ticket answered all within 24 hours of paying for the first month. Support is a little sluggish, and less quick about getting actual work done than I'd like, but they are at least DOING something and replying to tickets. This, I can at least work with!
Three days later, A Small Orange informs me that they have processed my refund, but it has not yet shown up in the CC account as a credit. I'll give them a few days, then complain if it does not show up. (The refund was in my account several days later.)
At least we are moving forward, it appears that we will meet the deadline and that I will be able to do this after all.
Now to get my products ready for the market tomorrow, while I wait on support to move the sites. If all goes well, we should be fully over to the new server early next week.
—————————-
We moved to InMotion Hosting.
It took a little longer than I wanted to get the sites transferred, and then the bugs worked out, but it got done. I can say that while Support at InMotion is not sufficient to cover dedicated server issues – regular support gets lost with it – their Advanced Hosting techs are really good. Not fast, but they know their stuff. Problem there is that they charge for any assistance over the initial setup of the server. So if you need advanced support later, you either wrestle with Support, or pay for something more skilled. I can probably live with it, mostly. I doubt I have a choice, since most other companies leave you without any meaningful support at all.
Since we cannot find a company that offers affordable dedicated hosting that is any better, we will make the best of it.
Our PLAN was to build a wood hutch. Our PLAN was to order some chicks and ducks this month, and a few more next month, and to build the bunny hutch this month, and to get the rabbits next month.
Until we went into the farm and ranch store. And they had chicks. And rabbits. They RARELY have rabbits. They have a hard time getting them in stock here. And basically, I buy chicks from the hardware store, but I NEVER thought I'd buy a rabbit that way. You don't know the breed, you don't know the age, the gender, or anything. But it is also really hard to find any rabbits other than New Zealand out here, and I'm just not crazy about that breed. Hard to find anything else any closer than 150 to 200 miles away.
But there in the rabbit pen was a good sized chinchilla rabbit. Sprawled out all comfortable. And my husband, who always LOOKS at the rabbits, but rarely gets INTERESTED in a particular one, started asking questions, to which he was given no satisfactory answers, but it did not matter, the damage was done! There were two other bunnies also, much smaller – one adorable little fluffy thing, and then another that will probably have to be named Flopsy by someone, because it has one lop ear, and one perky upright ear.
And they had Buff Wyandottes. We ordered some layer chicks. We still needed meat chicks. Wyandottes are classed as a Heritage Meat to Dual Purpose breed. I like Wyandottes.
After doing our scheduled shopping, we took a trip into another ranch store. There, in the back, we found some rabbit cages that we could afford. From that point on, it inevitable. To our great delight, when heading to the feed area, we found a stack of clearance cages – We managed to pick up two large ones for just $14 each, and a smaller one for $20. I had already picked up two large used totes at the second hand store, so we were set.
We picked up a little lumber so we could build a frame and enclosure for the cages, and then headed back to the first ranch store. Kevin made a beeline for the bunnies, and asked for the chinchilla. I told him that I wanted one of the other smaller ones too – the lovely little fluffy beige bunny with darker tips on its ears and paws, which looks like it might have a little angora in it, but not enough to be too fluffy. Since we want meat mutts (we like the hardiness of cross breeds), and since we want to start working with the pet market, with smaller "cute" breeds, these two fit right into our plans. And it does not matter whether they are male or female because as the first two, we can acquire others depending on what these turn out to be – we will subject them to the indignity of a gender check in the next few days sometime.
And then there were the chicks. Of course the ones I wanted were more expensive. But I just could not make myself buy the cheaper ones, they were NOT breeds I needed! I did not need more layers! So I decided, after quite a bit of arguing with myself, to get 8. I wanted more, but just could not justify the cost. As the sales associate lifted them into the box, he said, "You might as well get nine, and then you'll get 12." They were running a Buy 3 Get One special. Yeah. Might as well. 12 it is!
We hauled them home, fed the rest of the poultry, and then assembled a cage for the bunnies. They can share (they were in the same pen anyway), until we can get a framework and shelter made. Then they can go out. Nice thing about the pen, the wire is good quality, heavier than I expected. Of course, it was held together by flimsy plastic clips that would not hold up under real use… but lucky for us, we keep J-clips on hand, so we just assembled it with those.
The chicks get to spend a few weeks in the house before start to we transition them out.
But we are definitely going to need to get another sack of feed!
The first eight were DOA. I was pretty bummed, because each month when we decide what we need to invest in to move our projects forward, every single thing we choose to purchase is purchased at the expense of a dozen other things that were competing for those dollars. So eight dead snails were NOT a happy arrival.
The seller made good, and shipped eight more, all of which were a healthier color and showing signs of life when the box was opened.
So we now have eight snails climbing the inside of the jar that is their temporary home, until we can move them into a more varied environment. Any movement of the jar, or near the jar, apparently startles them, and they drop from the side to the bottom.
How do snails win out over the dozens of other things we could purchase right now to grow our farm and business? The simplest reason is because I am writing a book. On raising creepy things as livestock feed. So snails were the next logical step after mealworms, and nightcrawlers. We still have redworms (though I have enough experience to write that chapter already, but we want the worms), superworms, rice beetles, dubias, and BSF larvae to go. All things I really had no intention of getting up close and personal with. But this we can do now. So we do it.
A little clarification about snails. The snails that arrived were aquatic Mystery snails. Yes, they are edible, just like escargo (but not as slimy so they are simpler to prepare). No, people don't usually eat them – I don't know if it is a quality issue (funny applying that word to snails), or if it is a familiarity issue. Whatever it is, I do not intend to eat them. I do, however, intend to feed them to my ducks. Ducks love small snails, and the calcium in the shells helps layer ducks.
We do hope to raise regular snails also, but it is more complicated. You can't just order them off eBay or Amazon. Shipping them is illegal without a Federal Permit, and they are illegal in many states – even though they occupy back yards in virtually every place they are illegal! So we may have to sneak out and capture contraband in the dark of the night in order to get the real Escargot snails. Aquatic snails, however, are not regulated in the same way, and Mystery snails are legal pretty much anywhere.
Most snails reproduce exponentially, as do most insects. This is why many people seem to think they are more of a liability than an asset – because they do not know how to use the abundance.
The aquatic snails in our livingroom will soon be joined by fish, and shrimp. And some more plants – currently they are sharing their habitat with algae and duckweed, both of which they eat. But soon we will add in fish, which will eat THEM (but not all of them). Snails do reproduce wildly when they are given comfy digs. But that is an asset when you have lots of things to eat them.
And that is why we got snails. Not only will they help me finish the book, but they will help us close the loop on the food chain for our livestock.
Mystery snails can come in many colors, but the black ones are more diverse genetically, and they are less expensive than other colors. So we went with basic black (which is NOT a decision I'd ever make in my wardrobe because black makes me look dead). I am now hoping they really ARE as easy to care for as they are supposed to be, because one thing I am NOT into, is fussy. I'm all about easy, and once we have to break out the test strips and meters, I'm outta this!
We picked up a damaged 35 gallon fish tank the other day, that came with some filters and a bubbler, so the snails will get the bubbler as soon as we get it cleaned (the tank is not watertight, but it is bug-tight, so we will use it for either snails or dubias). We have to keep a cover on the jar, because snails will escape if there is an opportunity for them to do so. While they cannot take up habitation in the back yard and survive, they can live for a few weeks out of water, and then they die, and stink, and finding that underneath the furniture is just not an experience I am anxiously awaiting!
Today we got snail mail. And I don't think it is going to be the oddest mail we receive.
It started about three weeks ago.
One morning one of the quail hens was bleeding. We moved her into a temporary home next to the bantams. We had to partition off part of the bantam cage to do it, so the bantams were understandably put out. The quail cage above the bantams had three hens on one side, and three hens and a roo on the other side. One from the roo's cage was injured.
Two days later, another quail was bleeding, and this time there was no question who the culprit was – our only quail roo, housed with his small harem, was taking them out, one by one. So we moved the injured one in with the other injured one, and the one healthy one that was left, went in with the other hens. We have two double cages, so the quail are in one (partition in place), the Bantams were in the other (partition was removed until we had to put the quail into isolation).
Mr Quail got to learn how to be alone, since he could not control himself in the presence of ladies.
It took about two weeks for the battered wives to heal, and we decided to give Mr. Quail one more chance. We removed the divider in the quail cage, and put all the quail back into it. We put in two sand baths, and they fought congenially over those while Mr. Quail ran around taking advantage of every female he could pin down. It took him about 4 minutes to make the rounds with all the girls. Twice. Then he started getting distracted by the sand bath. He likes the sand bath almost as much as he likes girls. Almost.
All was well, for awhile. Then we noticed nobody was eating. Lots of running around in the extra space, but they were barely touching their food. This, from quail that previously had to be fed three times a day just to keep up with them. I'm not sure what that was about, but given the subsequent events, I am thinking Mr. Quail seriously upset the pecking order, and was disrupting the feeding hierarchy.
And then, this morning, one of the two previously battered wives was bloodied again, and Mr. Quail was chasing her, cornering her and pecking viciously at her. Caught in the act. I grabbed Mr. Quail and put him into the banty cage.
Cary Grant (the bantam roo who presides over our two banty hens, Princess Grace and Audrey Hepburn) was not about to let an upstart perpetrator of domestic violence go without reprimand – or maybe he was not about to let him get near the banty girls! He chased him and gave him a taste of his own medicine, cornering him and making him cower under an onslaught of stern pecks.
I got them all over to one side of the cage, slid in the partition, and moved Mr. Quail once again, into isolation.
We had no other accommodations for our birds, and it was clear that the bantams needed the entire cage, and that Mr. Quail was not capable of behaving himself if left alone with the ladies for more than 2 days at a time. We needed another cage!
Hardware cloth was cheap at the local building supply store, so we grabbed a couple of rolls. We already had some J-clips, so the only other thing we needed was a latch for the door.
So we spent this afternoon building a small cage out of half inch hardware cloth, j-clips (for holding the sides together, and to work as hinges), and an aluminum pan (snagged from our fodder shelf where it had been in use as a sprouting pan). The deep aluminum pan now has sand in the bottom. We designed the cage the right size for the pan to go in the bottom, and we made a hatch that opens to slide the pan out for cleaning. A second access door above lets us put in feed and water.
In went Mr. Quail, who then spent the next 10 minutes (while we were feeding them all), running up and down the side of the cage next to the hens' cage, trying to find a way through the wire. Ain't happening! We slid a plastic barrier between, just because it was so pathetic.
So now we have all the hens in an open double cage, and the bantams have all of their house back now that the unwelcome visitor has gone.
Mr. Quail will get conjugal visits once a week. Considering how quickly he can make the rounds, we won't need to leave him in long enough to give him a chance to think about anything else. This way we get fertile quail eggs without having to risk him beating the hens bloody.
It is kind of distressing to me, because I prefer things to be more natural, and ideally, I'd have them in a larger pen with plenty of hiding spots. But reality being what it is, I can't always do things the way I'd like, so we've had to take measures to ensure that we protect our investment in these little birds.
In between weekend visits, Mr. Quail will have to content himself with the sand bath, which he now has all to himself.
A neighbor came over yesterday and took Kevin off to his farm. The neighbor had nine guinea fowl roaming wild on his property. He never fed them, except a little corn now and again when he felt sorry for them. They foraged on his farm, cleaning up after the other animals, and were plump and healthy birds. Several weeks ago he had told us that if we wanted some, he'd gather them up and let us sort out as many females as we could identify.
So I went promptly to Google to learn how to sex Guinea Fowl. Most of the information listed only a single difference – the males had a single syllable call, the females a two syllable call, often described as "buck-wheat!". It is loud, and distinctive ("distinctive" being a preferable word to "annoying" which is also used to describe the call).
Further research another day, showed that sure enough, there WERE visible differences as well. The males have larger wattles, and taller helmets than the females. We went out and looked over the Guineas and had a little practice identifying the females from the males. We wanted a mix, but mostly females, and the neighbor did not care, since he never got eggs from them anyway, and had no safe place for them to raise young.
So the neighbor put some corn in his unused chicken coop, and waited until the guineas were in the coop. It took three weeks.
Yesterday, he and Kevin caught five of them, attempting to make sure they got as many females as they could, since his flock seemed to be mostly male. They drove them over in a dog crate that was in the back of the neighbor's pick-up truck.
Guineas can get out through holes smaller than you think they can! This was the first lesson that the guineas taught us.
When the crate was picked up, three of them promptly escaped through a hole in the bottom. The other two were deposited into the chicken coop – a fairly large open-air affair that is pretty decrepit, and has holes patched throughout the coop, and more in need of patching.
The three that escaped kept near the coop, for a while. I got a bucket of seeds, and scattered them around the door of the coop, and inside the door across the floor. The coop has two rooms, so we drove all the chickens and ducks, and the two guineas, into the inside section, and left the outer area open.
When we came to feed the poultry a little later, the three outside had come over to eat the seeds near the coop door, but they bolted as soon as they saw us. When we went inside to feed the other poultry, the guineas inside panicked. One flew up to the roof, and escaped through a hole we thought was not large enough for them to get out through.
Guineas can FLY through holes much smaller than you think they can. That was the second lesson.
So we got screws, dug out some more pieces of discarded metal siding to use as patches, and started in on the roof. Again. We patched as much as we could before the drill battery died, and then we put a makeshift patch over the one other hole we knew the birds could probably get out through.
While we were working on the coop, the remaining guinea revealed her identity with her loud and raucous call. Not only a hen, but a vocal one. If you need a decoy, with a guinea, a hen is best! Guineas are flocking birds, and they don't like to be alone, so they complain about it. Other guineas will be attracted to the noise, and hang around their flock-mate.
That hen in the coop looked surprisingly small. They seemed so much bigger when they were bobbing up and down the pasture, and roosting on the roof of the neighbor's barn. In the coop, she looked more like a miniature turkey and was the same size as one of the smaller chickens.
We tried a little more to encourage the errant four into the coop last night, but they were rattled enough for the day, and they flew off to a neighbor's field. We left the door open, and left the rest of the birds in the interior section of the coop.
Today, Kevin heard the calls of the guineas. He went out to find them in front of the coop. He moved slowly around to head them off from their preferred escape route, and one of them hopped onto the coop doorway, and Kevin said he knew he had them when that happened. Sure enough they all went into the coop! They had come back for the free meal, having remembered those seeds in the doorway, and likely hearing the hen inside. Once in, Kevin shut the door, and they are wandering around inside, eating seeds, thinking life is not too bad right now.
We still have a few more patches to do on the roof, and then we have to catch those things, and clip their wings. They are so skittish that we'll constantly be dodging them and having to pull them out of a panicked effort to batter their way through any light coming through the roof otherwise. I suspect I'll have to clip some of their secondary flight feathers, and not just the primary ones, to keep them from bolting for the door to fly past our heads.
I'm still puzzling over why Kevin was able to get those guineas into the coop. One person should not have been able to do so, and they should have bolted and flew off again. But they did not. They just went in. I'm also filled with immense gratitude, because the loss of all but one guinea would have been heavy.
We had no idea when they would be coming in, but thankfully we have a good amount of feed on hand, so it won't tax us to increase the feed going out each day.
I expect it will take a few weeks for the guineas to settle in, having been entirely wild, and now being confined, even though the coop is very large with plenty of space and roosting area. It would hold two, perhaps three times the birds we have in it, and not be crowded, so the guineas at least won't be cheek by wattle with the chickens.
The hens were already trying to establish a pecking order where the lone guinea was subject to them – I do not know how the equation will change with five guineas grouped together, but maybe the bully hen will find that it is a different proposition when there are five, and not one!
We spent part of the afternoon today making more patches. They could not be called repairs, there is no way to repair without replacing the whole thing. But the holes are now down to a collection of much smaller ones, and there is less daylight coming through the roof. We moved slowly while doing the repairs and the five guineas huddled together along the back wall, moving around to the wall furthest from us as we moved around the coop to put up more patches on the ceiling (the roof is not strong enough to hold the weight of a person to make repairs from above). This is not our coop, so this is the best we can do. It is a near fall-down that just happens to be on the property here, and which we had permission to use. We will replace it soon with a hoop house of sorts, I think. But for now, at least the animals are secure, and fairly well protected from the weather.
The guineas had settled down enough that they did not panic as we did the work. That is a major improvement. They weren't happy with us being in there. But at least they didn't fling themselves against the chicken wire front and try to beat their way through it!
So the day has taken shape in a way we had not anticipated yesterday. We hadn't realized how much more work the coop needed just for Guineas. And that is the third lesson. Coop repairs always happen when you least expect it.
But this is good. And we are satisfied.
The fellow we bought the quail from presented us with a transport cage with about 10 quail in it. One pretty gold pair of Italians, and a bunch of browns. The browns were mostly male. It is what he had at the age that he usually sold them (4 weeks). We needed females and told him so. He trotted off to his cages in the back, and brought out more females, a little smaller in size, to make up the difference.
So we had an Italian pair, and a brown male and 5 females. We took them home, and put two of the brown females in with the Italians, so we now have two cages of 4 birds, each with a male and three females.
You can really tell which females are older. Or at least, you could last week. They sing, and they get more aggressive at feeding time, throwing themselves at the cage when your hand comes near, and nipping at my fingers whenever I put my hands in or near the cage. It does no hurt. It is just annoying.
Not knowing the exact ages, and having disturbed the birds by transporting them for about half a day, we knew it would be a bit before the eggs started coming in. But just over two weeks after bringing them home, a tiny brown speckled egg appeared in the cage with the largest female. The most obnoxious female. The one that routinely tramples others in the cage to get to the feed, tromps in and out of the waterer, and flings feed in the most messy manner. I guess I'll keep the brassy little thing a little longer!
The egg was inexpertly colored, the color was thin, the speckles were tiny, and some of the color rubbed off when I washed the egg. But inside was a large dark yellow yolk. Ok, so the term "large" is relative in this instance! The yolk was actually about the size of a dime.
What do you do with one quail egg. NO! I did NOT want to wait until I had more! Where is the fun in that?? So I fried it, and ate it with my breakfast. (Kevin does not care for plain eggs, so he did not mind.) A tiny little fried egg perched on top of the sausage and potatoes.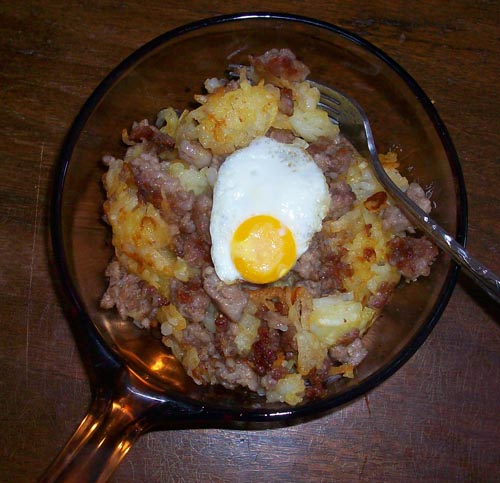 One little bite and it was gone. But the taste was excellent, and the egg yolk was smooth.
Waiting for the first egg from any birds you bring home is a daily reminder that maybe just maybe you have no idea what you are doing. Even though I've raised poultry before. Even though I've fed them without commercial formulated feed before. Even though I grew up with poultry. Every day I questioned whether they'd ever lay. Whether they were getting what they needed in order to produce. Did they have enough light, was it warm enough, did they have enough calcium, salt, protein, vitamin A? Was the feeding protocol we were using right for them to be able to lay well?
In the middle of the second week, I was in front of the cages running over the list, wondering if they'd be able to do the job, and I had a calming thought go through my head. "Laura. Stop questioning what you know. You DO know this stuff. You'd done it. Stop worrying about what you know you know." I had to laugh. Because I DID really know. But here were these little birds, dependent upon me to get it right, and I would not know I REALLY had it right until they began to lay – their purpose on our tiny farm.
If you bring home an eating machine, and it never produces anything of value for you, then you have not succeeded at farming. I could feed those birds, and keep them alive, and still fail, if they never laid an egg. Because eggs are why they are here. Eggs are how they earn their keep, and how they justify the cost of the grain and fodder they fling with abandon about the cages. If they don't produce, they are just an expense we cannot afford. And so it is with all our livestock… and until it actually happens, it is a gamble. I hate gambling.
The first egg is a landmark. The indication that yes, this is going to work. Yes, we did get it right. And yes, these little things will likely be worth the investment.
One egg today. In a few weeks, we are promised, we will have six eggs a day. Eventually the little banty hens in the larger cage below will begin to lay, and when they do, we'll put in a nest box, and let the banties brood some of the quail eggs.
From small things, come that which is great.
"aah-ee-aaa-ow!"
A thin and wobbly screeching noise drilled its way from the other side of the basement, and into our bedroom. It sounded like a cat, screaming in pain. My muddled brain could not quite place the noise as belonging to anything recognizable.
I was barely awake, and in the process of trying to decide if I REALLY wanted to get up or not. I knew the noise was coming from the small birds that we had installed in cages in the room next to the back porch, but it was unlike any poultry noise I'd heard before!
"Aar-Ee-Aa-Ow!" Whatever it was, it was a little more sure this time.
"AHR-EE-AA-OW!" Oh! It was the rooster. This time it at least sounded like it MIGHT be a rooster! But it was not the confident "Cockadoodle doo!" that one expects from a rooster who knows what he's about!
He's a pretty little thing. Red, blue, and black. I know just enough about their coloring to be confused, so I don't know the name of his coloring. But he is very pretty.
"AHR-EE-AA-OW!"Less thready, and a little less screechy now, the rooster notified us of the commencement of the day. Whether or not I wanted to get up, it was clear that I would be scolded until I did!
He and his two hens are in a cage indoors. The hens are also lovely, in an understated Jaqueline Kennedy sort of way. Nothing ostentatious. Lovely sleek feathers and conservative colors. Bantam hens are like that. They leave the flash and glitz to the men in the family.
We don't advocate cages for Poultry, as a rule, but this is a special case. Because the cage above them holds 8 quail – 2 roos, and 6 hens. One of the roos and one of the hens are a very pretty Golden Italian coloring. The rest are just ordinary Brown Coturnix. Good egg layers.
The Bantams are not confined because we like having them in cages. They are confined because we need them to be able to serve as Broodies. Those two Bantam hens, whom I am going to be forced to name after Audrey Hepburn (the black hen), and Grace Kelly (the silver hen), are needed, to brood quail eggs. And their own eggs, of course, we would not want to deny them the privilege of seeing what kinds of other interesting (if confusing) color combinations that blue and red roo can inspire in the gray and black hens. The only practical way to keep them where they can do this through the winter, is in a roomy cage, indoors.
"AHR-EE-AA-OW!" Well, it is clear that this little roo is not going to be crowing in an expected manner any time soon! Kind of funny, since I wrote previously about a rooster with a wobbly little crow (The Rooster Who Crowed Too Soon). But at least this little fellow does not feel compelled to roust us from slumber at 4:00 each morning, hours before the sun as even thought of rising! He is at least polite about that, and waits until the sun comes up.
His crowing stopped when I came in to feed them – having asserted his authority, he was content to stop announcing daybreak (and besides, it is harder to crow with a mouth full). He and his ladies are rather messy eaters though, scattering assorted seeds and grains across the floor of the room. Their companions, the quails in the upstairs apartment, are equally messy eaters, so the Banties cannot be blamed for the entire mess. We are working on ways to get them to adopt more acceptable table manners, but in the mean time, the mess needs sweeping daily. We'll be going to sprouted fodder grains soon, which should reduce the messiness since it is harder for them to fling that out of the cage in their hunt for the juicy bits.
The quail are quiet. They coo and chirp and crow quietly, and that is all. The crow is not like a rooster crow. It is softer and more gurgly. They do not wake me in the morning.
The Bantams are familiar territory. We've raised them before without purchasing commercial layer feed. The quail are a new adventure. Their diet is similar to the Bantams, they just need a little more protein – a few more tasty bugs. Harder to provide to indoor poultry than outdoor poultry, since the indoor birds cannot forage for themselves. I foresee a worm bin taking up residence in the basement room in the near future. Six fodder trays have already been set on the shelf below the Bantam cage, with dampened seeds for sprouting.
Since the rooster is still very young, I don't doubt his crow will change. In the mean time, he is amusing, and not too obnoxious, so he can get away with sounding like a scalded cat.
Everyone has an opinion about whether the US should "rescue" refugees or not, and the opinions seem to center on two basic topics – compassion, and safety.
The issues here are lengthy, and often distracting. Mostly distracting. Because the things you have been lead to focus on, are not the issues at all. A few loud voices have controlled the dialog, and carefully circumvented the facts.
I'll try to break this down into some coherent sub-topics.
Compassion
If the government resettles refugees, that is not compassion. That is socialism. That is theft of American money, from American taxpayers, given to foreign entities. There is nothing compassionate about it.
Compassion is an individual thing. You feel it, sufficient to act upon it, GIVING OF YOURSELF (not taking from someone else, or ordering someone else to do it). If you do not decide to GIVE… PERSONALLY… YOU DON'T HAVE COMPASSION. You are only pretending.
So let's stop the pretense that those who want the government to fix the problem, somehow have more compassion than those who want to stop the government from acting beyond the scope of immigration law.
Economics
Our nation is broke. Maybe you don't realize this, but when you are so far in debt that you will never have the resources to get out of debt, you are broke! When your income exceeds your expenses year after year, and there is NO EFFORT to restrain or economize, YOU ARE NOT JUST BROKE, YOU ARE STUPID.
For our government to discuss SPENDING money to take on the upkeep of refugees here, is not only contrary to our law, it is unbelievably irresponsible, and CRUEL to the very people to whom this government owes its first allegiance – that is WE, THE PEOPLE… NO, that does not mean people from around the globe. No, that does not mean citizens of another nation. It means AMERICAN CITIZENS. We pay the tab. We come first. It is the duty of the government to see to the needs of its own house before aiding another (that is Biblical, for those Christians who want doctrine – it is just plain fair logic for those who don't care about that).
If you are living in a house with a mortgage payment that is 3 months past due, and your bank is about to foreclose on you, then taking out a mortgage on another home so that you can fill it with refugees is REALLY DUMB. You don't offer to pay for someone else to have a home while you and your own children are crying in the cold because you don't have sufficient to pay for your own home. You see to the needs of your OWN FAMILY FIRST. Then you render aid wherever else you HAVE THE MEANS to do so, whether it be a dollar or five, or a hundred. OUR GOVERNMENT is under the same obligation.
This year, there will be no Cost of Living Adjustment for Seniors on Social Security. People who paid into a system, and to whom the government made promises. A system that would be self-supporting were it not periodically robbed by that same government to fund things unrelated to Social Security. To make a decision to not increase Social Security because "we don't have enough money", and then turn around and offer to pay welfare for refugees is senseless, corrupt, and inexcusable. If we do not have money to take care of those close to home, we certainly don't have it for those whom we have no allegiance to!
Immigration Law
US immigration law requires that anyone coming to the US as an immigrant not be a drain on welfare resources for at least 5 years. They must be employable, or they must have a sponsor. Historically, recent immigrants were ineligible for welfare services – only those who had paid taxes IN were eligible to draw on the system. This is only fair and just.
Children may not immigrate without a home to go to. Orphans may be adopted, but the family receiving them must be able to show sufficient income to ensure that the adopted child will not draw upon welfare services for a 5 year period.
In a refugee situation, the powers of the US government have historically been limited to ONE decision only… That is, how many immigrants will they allow from each country, each year. In a refugee situation, they may increase the number allowed from that country.
In all cases, standard background checks are required, refugee or not, and immigrant law is not circumvented. So when the House currently seeks to require background checks on Syrian refugees, they are NOT asking for special treatment for them! They are only asking that CURRENT LAW be observed.
If immigration law were enforced, and not set aside, the government would NOT BE INVOLVED in any kind of debate at this time!
Sponsoring Adults
When an adult immigrant, or a family of immigrants, has a sponsor, the approval processes are generally much faster. This sponsor may guarantee a job for the head of household, or they may certify that they will ensure that the needs of the family are met so that welfare resources are not required.
If this provision were utilized at this time, ANYONE who felt like Syrian Refugees SHOULD be brought to the US, would be capable of stepping forward, and volunteering to sponsor a refugee, or refugee family. If you think they ought to be here, then by all means, PERSONALLY welcome a family into your home, your business, or your neighborhood.

No government involvement necessary, beyond standard immigration policy.
Those who claim "Compassion" for the refugees are free to act upon their conscience, and demonstrate to the rest of the nation, just how it should be done!
Adopting Children
Syrian refugee children are with families, or a guardian – they don't get out otherwise.
In Muslim countries, women and children are possessions. They are not free to act for themselves. They are not able to travel by themselves without being taken captive, and abused, or punished for being without proper company. Muslim countries do NOT allow their orphaned children to be adopted by infidels.
But, supposing a child DID escape. Supposing there are refugee children in camps where parents or guardians have died, who have not been claimed by other Muslims in the camp (even then, this is the exception, not the rule, since the majority of refugees at the outset are adult men, without families).
The ONLY way that the US can legally help them is through overseas adoption. This is a lengthy process – mostly for the parents. There are many parents here who ARE prepared with homestudies done, and INS paperwork completed or nearly completed.
There have ALWAYS been children around the world in dire straits… and those upon our own shores as well. So people who REALLY have compassion, are already helping, no matter where the children are located (this help may also be rendered through non-profit donations, humanitarian aid organizations, fast offerings, etc, and may be small or great, but is always a personal sacrifice and a personal effort).
Parents who are prepared for this KNOW that children raised in a culture where women are degraded, and children are used for immoral purposes, and where children are taught that people who are not of their beliefs are never to be respected, will be VERY DIFFICULT to normalize within an American family situation. Personally, if I had daughters in the home, I would never bring a boy with that background into my home, unless he was under about the age of 3. It would be foolhardy. If I had no children in the home, I would consider a child up to about the age of 7, but would not consider older children unless I felt like I was instructed personally by God to do so. Because some children over the age of 8 have been trained in behaviors that would present a threat to the mother in the home.
God bless those who feel called to take in these children and love them in spite of the dangers.
If you are NOT ALREADY PREPARING to bring an international child to your home (or directly and PERSONALLY helping someone else do so because you cannot), then SHUT UP about the "poor orphans" whom our government is supposed to rescue. YOU HAVE NO RIGHT!
A government CANNOT rescue orphans. FAMILIES have to do that. Put up, or shut up!
Action On Your Part
There is nothing stopping ANYONE who wishes to help the refugees, from helping the refugees. Government involvement IS NOT NEEDED.
You may donate money to a charity that is aiding refugees in overseas camps.
You may donate money to an organization that facilitates international adoptions.
You may donate money to a family that is trying to adopt.
You may sponsor a refugee or family yourself.
You may prepare to adopt a child.
You can do one of any number of other tasks that require your personal attention to offer aid.
Just don't stand around pointing the finger and saying that other people are mean because they don't want the government to circumvent immigration law, in order to get out of having to act in a way that costs you personally.
The Government's Legal Right to Decide
The government has a legal right to decide how many immigrants to allow in.
Unfortunately, so many people are mislead by the misdirection right now, that our government is GOING to decide an issue which there is NO POINT in having them decide, and they will probably throw money where it will be largely wasted, and get us deeper in debt in the process.
If THEY would first FOLLOW law, before trying to change it, there would be no need for them to decide anything other than what they already have the process in place to do!
Your Legal Right to Decide
It is your right to decide HOW YOU PERSONALLY are going to make a difference. You have plenty of options.
But it takes more than words of ridicule pointed at someone who feels that it is NOT the responsibility of the government to be importing refugees. Those words carry no weight, they are hollow, insincere, and recognized for the evasion of integrity that they really are.
Growing up, it seemed we always had a compost pile. I remember taking kitchen scraps out to it. I remember the pile of stuff, decomposing from bottom to top. When you had scraps and peelings from the kitchen, that is just where they went. In my childhood, this was the purpose of the compost pile.
I did vaguely understand in the background that compost was supposed to be used. That if things rotted enough, they would no longer be moldy, blackened soggy disgusting things, but something else instead. But I didn't know what. Because I never saw it. My mother assures me that she used compost on the garden. But she did not do it in my presence. All I ever saw was the compost pile that gradually grew some of the healthiest weeds around, and some volunteer tomato plants that never seemed to bear.
What we did use, is the manure pile that was below the hatch in the wall of the barn. The hatch that you never wanted to be near when someone was shoveling out the barn, because that is where the manure was chucked out into a pile that always seemed to be about 4 ft high and 6 ft wide, no matter how much you had just thrown into it. The pile that produce the BEST worms in the area… And which we scraped off the top layers from so we could get at the bottom, every time my mother said we needed manure for the garden, and which produce black, black composted matter at the bottom of the pile, which we shoveled into the barrow and hauled to break up and scatter on the gardens.
I miss that old manure pile… We haven't had sufficient large livestock at one time to generate a manure pile of that magnitude or value.
But everyone now says you have to make compost to enrich your garden soil, and to recycle the organic waste from your kitchen and yard.
The idea of saving scraps, and turning them into soil enhancement is alluring. But it just never seems to work out that way for my family. The bucket in the kitchen does not get emptied daily (no matter how we promise that it will), so it ends up being a breeding place for fruit flies which then end up in the potted plants, sprouts, seed starts, and everywhere else that we don't want them. I know, put a lid on… but then I have to pry a lid off every time I want to put something in, and that usually means I remember after I have the knife and the mango already in my hand, and the first piece of peel is already off… and there I am with drippy fingers and full hands trying to remove a lid without getting juice on the counter or the outside of the bucket… Sigh. It is just easier to toss it in the trash.
If the refuse makes its way from the bucket to the compost outside, it sits there. If we have a container, it rots in there, making a horrid mess. IT DOES NOT TURN TO DIRT!!! It turns to mucky black stinking stuff. If we poke holes in the bottom, it turns to dry mucky stinking stuff. Oh… you are supposed to turn it, and whatever else. Who remembers? Compost maintenance is just not high on my list of must-do tasks! If it is not convenient and easy, I am not likely to get it done!
So after years of flirting with it, and failing, I don't do compost. I USE compost. And I recycle scraps. But I don't have a compost bin, or a compost pile.
Mostly, we feed the scraps to the animals. When the bucket on the counter is FOOD for something that needs to be fed, and when it is a savings of money (because it offsets some purchased feed), or savings in work (because it offsets some feed we'd have to either grow, or gather), then that bucket is an asset that is remembered every time we go to feed the animals. It gets emptied twice a day, because we feed animals twice a day (when feeding fresh foods instead of commercial formulated feeds, the food stays fresher and the animals do better on twice daily feeding).
There is very little that comes out of a kitchen that cannot be fed to some kind of livestock. Some of it they won't eat, but if you toss it in a pen or field for them, they'll eat what they want, trample the rest, and it gets reincorporated into the soil with no work on your part. Chickens are great at this, and composting refuse in their pen also provides a lovely breeding ground for all kinds of insect larvae, which the chickens will happily gobble up. Free food from free food. How cool is that? And if you need the end compost for the garden, you just shovel up some of the trampled manury dirt from the pen, and you get the best of everything.
So the majority of our refuse is recycled into meat, eggs, milk or manure. Or guard services rendered by a dog who considers every person walking past the window to be a mortal threat. So far we have seen no correlation between the amount of scraps he consumes, and the amount of barking. He is over-zealous no matter what we feed him, and the only side effect to feeding him lots of scraps is that he dogs your heels any time you go to the kitchen.
Composting can also be done by tucking refuse under mulch in the garden. This is only necessary if you don't have chickens though, and if the food is too far gone to be fit to feed anything living.
Dry organic debris, such as leaves, grass clippings, woodchips, sawdust, even plants pulled from the garden, are much better used as mulch, where they will compost layer by layer in place, and enrich the soil and save you the work of tilling.
So far I haven't found anything that would be better off in a bin or pile. All I have found is that if you think that compost is something you have to "make", then you are creating needless work for yourself, and depriving livestock of additional healthy food sources. Manure, and mulch are more useful for enriching the soil and saving on work!
The lightbulb moment for me was realizing that AVOIDING making compost was actually a more intelligent choice than thinking that if I was going to do it right, that someday I'd have to figure out a way to do it like the "professionals" recommend. The great realization that I DON'T NEED TO FEEL GUILTY for not making more work for myself! That the results were BETTER, and the workload LESS – a combination I am always striving for – when I let the animals and the layers in the garden do the work the way nature intended.
So no matter how nifty those compost tumblers look, and no matter how enthusiastic other gardeners are about teaching me how to "properly" prepare compost, I WON'T DO IT! I simply cannot see the need! I get better results without the hassle!