Click to Download Your Free Heritage Pickling and Culturing e-Book Now!
Instant Download, NO Registration Required!
Not the state. The horse. People in my family understand this reference.
Utah was a pretty big pony, almost horse size at 14 hands. Heidi, a Welsh Shetland cross, nearly kilt herself bearing that big boy. He had a few issues… Apparently the genetics were not as sound as the breeders liked. One of those things was an epiglottis that sometimes failed to understand its job in keeping food out, so the horse could sometimes end up with unexpected coughing fits.
He was a good horse though, a bit stubborn now and again, but large enough that my sizable grandfather could ride him without fearing injury if he were to break out into a trot (the horse, not my grandfather, he never broke out into a trot). This was important to Grandpa, because Heidi was really too small for Gramps, and had a habit of giving him a tiredly accusing look if he were to try to ride her. The grandkids got a lot of mileage out of Heidi though, so Grandpa had a reason for keeping her, and Topsy, another mare about the same size as Heidi, but not quite so round.
One day my grandpa fed Utah a treat, and he managed to choke (the horse, not the grandfather…), and it was bad enough that he actually went down (again, the horse… Gramps stayed upright for the moment).
"You ever seen a horse turn blue?" Grandpa asked when he told me this story. He waits, for me to register this and laugh. "His lips did anyway."
There was Utah, DOWN. There was Grandpa, coming close to a panic. He was a respectable millright mechanic, and a noted record blood donor. You just don't assassinate your favorite horse with a bucket of oats.
Not knowing what else to do, he did what the vet had told him to do if Utah ever did this… he sat down on Utah's ribs. He's a big guy (Grandpa, not the horse), and he said he heard ribs crack (the horse's ribs, not Grandpa's).  Poor Utah.
Whatever, poor Utah got the hint, went "Uuuuuuuuuuuuuhhhhhhhhhhhhh!!!!!" (and maybe a few more exclamation points, Grandpa tells this pretty emphatically), and staggered to his feet.
He then coughed (the horse, not Grandpa), and landed a great big gob of horse snot RIGHT ON GRANDPA'S BOOT. Right on the curve of the front of the boot, where it instantly bonded with the laces.
Grandpa was NOT HAPPY… he was holding back his gorge, trying to get to the hose to swill down his boot, trying and failing to stop thinking about that big gross gob on his boot, his stomach trying to heave every time he thought about it, finally managing to hose it off without throwing up. He didn't even want to THINK about how much of that had seeped into the boot and onto his socks. (At this point, Grandpa wants us to know it was a BIG glob of snot. A VERY BIG ONE. Even for a horse.)
Utah is fine with all of this, he can breathe again, in spite of the two broken ribs (Grandpa counted, said it was obvious), the snot does not bother him one bit anymore, and other than not being able to be ridden for several months, Utah is acting pretty normal.
Grandpa keeps the story pretty much to himself…  mostly because he can't tell it without a surge of nausea at the remembered image of that great plop of slimy mucus.
Now Robin wasn't a horse. Robin was a little bird, whose wings had been broken so many times by someone who thought that was fun, that she was plumb scared to fly. She hadn't forgotten how to run though, and still had some pluck left, though it was all wrapped up in a little ball of watchful scared.
Really, Robin was a little girl, whose life had been pretty rough up to that point, and my grandparents adopted her and her brother Tony. They were some kind of messed up, but then, so were Gram and Gramps sometimes, and at this time, she'd been with them long enough to be sure of her place there, but not long enough to learn to know how to laugh or to really remember what tears were for, let alone that she had a right to them (She did eventually learn that.).
Robin and Tony had started out living with Grandma and Grandpa's youngest daughter, along with a houseful of kids, and she'd just picked up calling the parents Mama and Daddy along with all those other kids in the house. So Robin also picked up the Grandma and Grandpa right along with the Mama and Daddy. She'd just been adopted by Grandma and Grandpa, but hadn't yet got used to calling them by the names of Mom and Dad, as she would eventually, and the whole idea of having nieces and nephews her age was still just a novelty, and not really real.
Next morning (after the Great Snot Plop), Grandma comes out into the entryway of their house, and there is Robin, hunched down over Grandpa's boot.
"What are you doing, Robin?" asked Grandma.
"There's something on Grandpa's boot." she said. She didn't look up. I guess Grandpa didn't do as good a job hosing that boot down as he thought!
Grandma looked. Grandma puzzled for a minute. "Did you do that, Robin?"
"There's something ON it." Robin insisted. "I thought I'd clean it off but I don't know how."
"Robin, did you put that there?" asked Grandma.
"No. It was just THERE." she's still looking at that boot.
By now, Grandma is pretty sure she's figured out the nature of the something on the boot.
Robin shakes her head, and says, "That's too big to come out of MY nose." she's still examining it, then she looks up at Grandma and says, "You better ask Tony if he did it!".
Grandma laughed, and thinks the better of asking if HIS nose is big enough. Robin looks up at her. "It's ok to laugh, Robin."
"That's too gross to laugh about." Robin said, shaking her head.
Grandma patted her on the head and went back inside.
Robin didn't laugh, but she smiled.
Grandma gave Robin a scrub brush, and Robin cleaned the boot. At least, that's what she SAID she did. Grandpa never did comment on the wet inside of his boot, or the amount of SOMETHING that he wiped out of the inside of it.
Later that day, Grandpa thanked Robin for cleaning that boot, and Robin asked about the mess.
"Utah did that." Grandpa said.
"Well, HIS nose is big enough!" Robin was satisfied that the world now made sense.
And that is the story of Horse Snot in Utah… and OUT of Utah.
For books, and more stories by Laura Wheeler, look for her name on Amazon, for Kindle, and in our bookstore at http://firelightheritagefarm.com
I've been discovering many new herbs and wild foods lately. Out foraging for what we can, I ID new things when possible, or go searching for things I'm already familiar with. It has been kinda fun, and we've discovered some real treasures.
Brigham Tea is ok. It needs sugar, but does not taste bad if prepared at very high temp (I pressure it). I went looking for that on purpose. That got me looking at bushes on the side of the road, the majority of which are rabbit brush and sagebrush, in varying tones of gray and gray green.
Then coming home one day I saw a green bush on the side of a back road. NOT sagebrush. Real green. So we came back later to get a better look.
A 2-3 ft bush, with leaf clusters running up each branch, that were beginning to sprout out. Each leaf cluster looked like a little fern plant – six or eight little fern like leaves in this perfect little arrangement.
I broke off a piece to take home and ID it. Once in the car, I noticed the leaves had a kind of nice perfumy smell. Well, on the surface. Very pleasant on first whiff. Running underneath that though, a distinctly yucky smell. Not something I can describe easily, but sort of heavily oily and with an edge of things rotted, and just barely resinous, and yet mellow at the same time.  Odd, really, I've never smelled something that had two distinctly different odors about it, but this did.
I looked it up, identified it positively as Fernbush. I mean, how many bushes out there have such a distinctive leaf arrangement, growing in that particular habitat? No doubt about the ID. The descriptions often mentioned that the leaves were "fragrant".
I then researched edibility (struck out), and medicinal use. Turns out it was traditionally used to make a tea for various purposes, recreational, ritual, and medicinal. Ok, I'll bite. Some of the medicinal uses sounded like ones that might benefit me.
I made up a syrup (easier to preserve than tea). That resulted in a HEAVY and nauseating emphasis on the yucky smell. The perfumy part was still there, but overpowered and tainted by the other odor.
We tried a little. The taste was inidescribably foul – and yet I have to try. A neutral sweetness from the sugar and a bit of the perfumy at first (like tasting floral perfume), followed by a gagging yuck ending with a hit and run resinous grab at your tonsils, and then nothing. No lingering aftertaste. A small mercy!
This isn't like Yarrow, or Hops, or even Calendula, where the sharp bitterness and awfulness that the bitterness just seems to encapsulate, where it yanks at your throat and stays there. Not that kind of yuck. Not the kind that turns your face inside out. and makes you cough and grab water.
This was very different. Like the difference between being wrapped up in unwashed coyote fur, compared to being sprayed by a skunk (the fernbush being the coyote fur, the skunk being Yarrow or Hops). This particular awfulness was more something that made you want to regurgitate your tongue. I did not know this particular force of yuck could exist!
I tried it with some vanilla added. And a little butter rum flavoring. Because they seemed like they would possibly dampen the yucky. They enhanced the perfumy side, but didn't even DENT the icky part. Sort of like putting rotted cod liver oil on top of buttercream frosting, and being able to totally taste both flavors.
Still hoping to use it as a medicinal, I tried it mixed with a few other medicinal syrups. Oddly, when you try to make a good tasting substance out of that bush, you fail. Nothing you add to it seems to overpower the ickyness. But even more oddly, when I mixed it with about three other syrups (none of them any too pleasant, actually, they are all just tolerable to get down), the resulting blend was like most medicinal tea – not pleasant, but not horridly nasty either. Somehow, blending that yucky syrup with several other less than enjoyable flavors, resulted in something that was somewhere in the middle where medicinal experiences go!
I think that it bears experimenting with a little more, I will try the blossoms and see if they produce something more pleasant, and less unpleasant. For now, I can get the mixes down, and should know in a week or so, whether it is helping with the issues I am taking it for.
When I heard that it was sometimes used as a recreational tea, not just a medicinal tea, I somehow thought it would taste better, because I cannot honestly imagine that anyone would want to drink the stuff for fun, unless their noses don't pick up on that second overpowering awfulness to the same extent that mine does. But Kevin smells it the same way I do, so it can't just be me!
The cool thing is though, ANYONE can identify this bush, if they see it, wild, or in gardens. Whether or not they want to take a chance on the medicinal tea though, depends on how much they need it!
Kevin chopped the head off the extra male guinea (with only three hens, we did not need two males). I skinned and gutted it (he helped hold it when things got tricky). Even a year ago I could not have done that. But now, I can. I can, because I must.  We skinned it because plucking is nasty, and until we have a plucker, I'm not doing it again. Had plenty of that as a kid, can't stand the smell of wet or burnt feathers.
We go the job done on the guinea, and then managed to dispatch one of the chickens we had lined up for the day, before we realized that the chickens must have been doing a rain dance. The heavens opened, and drove us indoors, with only two of the birds finished. The rest earned a reprieve.
Having no fridge space to rest or brine the birds, into the freezer they went. I pulled the guinea out yesterday, just after noon, and popped it frozen into the crock pot. Having never had guinea before, I just lightly sprinkled it with seasoning salt, and put a little water in the bottom to keep it from drying out completely.
The resulting bird was somewhat dry (likely leaving the skin on would have helped, since the skin was very fatty), but VERY tender. Tasted like Turkey, though the white meat is about the color of dark meat on turkey, and the dark meat is more like the dark meat on a duck – distinctive difference in color between the two, just darker. Very good flavor. Did not mess me up like some meats do either, seems to be a good one for me.
The skin that we removed was thick with yellow fat. There was also a lot of yellow abdominal fat, much like duck fat. I managed to salvage just a bit of it, but most was removed in the skinning and gutting processes.
Guinea liver is a little stronger tasting than the wonderful chicken livers I've been getting from the chickens we raise. But it is NOT as strong as commercial chicken liver.
If you are raising guineas for food, just think of them like a very small turkey, with a smaller and flatter breast meat. The bulk of the meat is evenly divided between the breast and the thighs. The wings have a little at the top, and the legs do also, not much otherwise. Much shorter meaty parts on the wings and legs than what chickens have. But it seems to be easier to bone out than chicken or turkey.
I'd suggest that this would be good as a substitute for wild game in many recipes, but you can also just sub it for turkey if you are more prosaic. Guinea Salad Sandwiches would be excellent.
I let the carcass go overnight in the crock pot, after adding some water. Keeps it from getting stale tasting like it does in the fridge. Today I boned it out, chopped the meat, and tossed it all in with some celery, carrots, onions, and sweet peppers, sprinkled with a little rosemary and seasoning salt. In a couple of hours, I'll add some brown rice.
Guinea Rice Soup for dinner. Life is good.
Update: The soup was good. Everybody ate it without complaint, along with some hot biscuits.
The first eight were DOA. I was pretty bummed, because each month when we decide what we need to invest in to move our projects forward, every single thing we choose to purchase is purchased at the expense of a dozen other things that were competing for those dollars. So eight dead snails were NOT a happy arrival.
The seller made good, and shipped eight more, all of which were a healthier color and showing signs of life when the box was opened.
So we now have eight snails climbing the inside of the jar that is their temporary home, until we can move them into a more varied environment. Any movement of the jar, or near the jar, apparently startles them, and they drop from the side to the bottom.
How do snails win out over the dozens of other things we could purchase right now to grow our farm and business? The simplest reason is because I am writing a book. On raising creepy things as livestock feed. So snails were the next logical step after mealworms, and nightcrawlers. We still have redworms (though I have enough experience to write that chapter already, but we want the worms), superworms, rice beetles, dubias, and BSF larvae to go. All things I really had no intention of getting up close and personal with. But this we can do now. So we do it.
A little clarification about snails. The snails that arrived were aquatic Mystery snails. Yes, they are edible, just like escargo (but not as slimy so they are simpler to prepare). No, people don't usually eat them – I don't know if it is a quality issue (funny applying that word to snails), or if it is a familiarity issue. Whatever it is, I do not intend to eat them. I do, however, intend to feed them to my ducks. Ducks love small snails, and the calcium in the shells helps layer ducks.
We do hope to raise regular snails also, but it is more complicated. You can't just order them off eBay or Amazon. Shipping them is illegal without a Federal Permit, and they are illegal in many states – even though they occupy back yards in virtually every place they are illegal! So we may have to sneak out and capture contraband in the dark of the night in order to get the real Escargot snails. Aquatic snails, however, are not regulated in the same way, and Mystery snails are legal pretty much anywhere.
Most snails reproduce exponentially, as do most insects. This is why many people seem to think they are more of a liability than an asset – because they do not know how to use the abundance.
The aquatic snails in our livingroom will soon be joined by fish, and shrimp. And some more plants – currently they are sharing their habitat with algae and duckweed, both of which they eat. But soon we will add in fish, which will eat THEM (but not all of them). Snails do reproduce wildly when they are given comfy digs. But that is an asset when you have lots of things to eat them.
And that is why we got snails. Not only will they help me finish the book, but they will help us close the loop on the food chain for our livestock.
Mystery snails can come in many colors, but the black ones are more diverse genetically, and they are less expensive than other colors. So we went with basic black (which is NOT a decision I'd ever make in my wardrobe because black makes me look dead). I am now hoping they really ARE as easy to care for as they are supposed to be, because one thing I am NOT into, is fussy. I'm all about easy, and once we have to break out the test strips and meters, I'm outta this!
We picked up a damaged 35 gallon fish tank the other day, that came with some filters and a bubbler, so the snails will get the bubbler as soon as we get it cleaned (the tank is not watertight, but it is bug-tight, so we will use it for either snails or dubias). We have to keep a cover on the jar, because snails will escape if there is an opportunity for them to do so. While they cannot take up habitation in the back yard and survive, they can live for a few weeks out of water, and then they die, and stink, and finding that underneath the furniture is just not an experience I am anxiously awaiting!
Today we got snail mail. And I don't think it is going to be the oddest mail we receive.
It started about three weeks ago.
One morning one of the quail hens was bleeding. We moved her into a temporary home next to the bantams. We had to partition off part of the bantam cage to do it, so the bantams were understandably put out. The quail cage above the bantams had three hens on one side, and three hens and a roo on the other side. One from the roo's cage was injured.
Two days later, another quail was bleeding, and this time there was no question who the culprit was – our only quail roo, housed with his small harem, was taking them out, one by one. So we moved the injured one in with the other injured one, and the one healthy one that was left, went in with the other hens. We have two double cages, so the quail are in one (partition in place), the Bantams were in the other (partition was removed until we had to put the quail into isolation).
Mr Quail got to learn how to be alone, since he could not control himself in the presence of ladies.
It took about two weeks for the battered wives to heal, and we decided to give Mr. Quail one more chance. We removed the divider in the quail cage, and put all the quail back into it. We put in two sand baths, and they fought congenially over those while Mr. Quail ran around taking advantage of every female he could pin down. It took him about 4 minutes to make the rounds with all the girls. Twice. Then he started getting distracted by the sand bath. He likes the sand bath almost as much as he likes girls. Almost.
All was well, for awhile. Then we noticed nobody was eating. Lots of running around in the extra space, but they were barely touching their food. This, from quail that previously had to be fed three times a day just to keep up with them. I'm not sure what that was about, but given the subsequent events, I am thinking Mr. Quail seriously upset the pecking order, and was disrupting the feeding hierarchy.
And then, this morning, one of the two previously battered wives was bloodied again, and Mr. Quail was chasing her, cornering her and pecking viciously at her. Caught in the act. I grabbed Mr. Quail and put him into the banty cage.
Cary Grant (the bantam roo who presides over our two banty hens, Princess Grace and Audrey Hepburn) was not about to let an upstart perpetrator of domestic violence go without reprimand – or maybe he was not about to let him get near the banty girls! He chased him and gave him a taste of his own medicine, cornering him and making him cower under an onslaught of stern pecks.
I got them all over to one side of the cage, slid in the partition, and moved Mr. Quail once again, into isolation.
We had no other accommodations for our birds, and it was clear that the bantams needed the entire cage, and that Mr. Quail was not capable of behaving himself if left alone with the ladies for more than 2 days at a time. We needed another cage!
Hardware cloth was cheap at the local building supply store, so we grabbed a couple of rolls. We already had some J-clips, so the only other thing we needed was a latch for the door.
So we spent this afternoon building a small cage out of half inch hardware cloth, j-clips (for holding the sides together, and to work as hinges), and an aluminum pan (snagged from our fodder shelf where it had been in use as a sprouting pan). The deep aluminum pan now has sand in the bottom. We designed the cage the right size for the pan to go in the bottom, and we made a hatch that opens to slide the pan out for cleaning. A second access door above lets us put in feed and water.
In went Mr. Quail, who then spent the next 10 minutes (while we were feeding them all), running up and down the side of the cage next to the hens' cage, trying to find a way through the wire. Ain't happening! We slid a plastic barrier between, just because it was so pathetic.
So now we have all the hens in an open double cage, and the bantams have all of their house back now that the unwelcome visitor has gone.
Mr. Quail will get conjugal visits once a week. Considering how quickly he can make the rounds, we won't need to leave him in long enough to give him a chance to think about anything else. This way we get fertile quail eggs without having to risk him beating the hens bloody.
It is kind of distressing to me, because I prefer things to be more natural, and ideally, I'd have them in a larger pen with plenty of hiding spots. But reality being what it is, I can't always do things the way I'd like, so we've had to take measures to ensure that we protect our investment in these little birds.
In between weekend visits, Mr. Quail will have to content himself with the sand bath, which he now has all to himself.
A neighbor came over yesterday and took Kevin off to his farm. The neighbor had nine guinea fowl roaming wild on his property. He never fed them, except a little corn now and again when he felt sorry for them. They foraged on his farm, cleaning up after the other animals, and were plump and healthy birds. Several weeks ago he had told us that if we wanted some, he'd gather them up and let us sort out as many females as we could identify.
So I went promptly to Google to learn how to sex Guinea Fowl. Most of the information listed only a single difference – the males had a single syllable call, the females a two syllable call, often described as "buck-wheat!". It is loud, and distinctive ("distinctive" being a preferable word to "annoying" which is also used to describe the call).
Further research another day, showed that sure enough, there WERE visible differences as well. The males have larger wattles, and taller helmets than the females. We went out and looked over the Guineas and had a little practice identifying the females from the males. We wanted a mix, but mostly females, and the neighbor did not care, since he never got eggs from them anyway, and had no safe place for them to raise young.
So the neighbor put some corn in his unused chicken coop, and waited until the guineas were in the coop. It took three weeks.
Yesterday, he and Kevin caught five of them, attempting to make sure they got as many females as they could, since his flock seemed to be mostly male. They drove them over in a dog crate that was in the back of the neighbor's pick-up truck.
Guineas can get out through holes smaller than you think they can! This was the first lesson that the guineas taught us.
When the crate was picked up, three of them promptly escaped through a hole in the bottom. The other two were deposited into the chicken coop – a fairly large open-air affair that is pretty decrepit, and has holes patched throughout the coop, and more in need of patching.
The three that escaped kept near the coop, for a while. I got a bucket of seeds, and scattered them around the door of the coop, and inside the door across the floor. The coop has two rooms, so we drove all the chickens and ducks, and the two guineas, into the inside section, and left the outer area open.
When we came to feed the poultry a little later, the three outside had come over to eat the seeds near the coop door, but they bolted as soon as they saw us. When we went inside to feed the other poultry, the guineas inside panicked. One flew up to the roof, and escaped through a hole we thought was not large enough for them to get out through.
Guineas can FLY through holes much smaller than you think they can. That was the second lesson.
So we got screws, dug out some more pieces of discarded metal siding to use as patches, and started in on the roof. Again. We patched as much as we could before the drill battery died, and then we put a makeshift patch over the one other hole we knew the birds could probably get out through.
While we were working on the coop, the remaining guinea revealed her identity with her loud and raucous call. Not only a hen, but a vocal one. If you need a decoy, with a guinea, a hen is best! Guineas are flocking birds, and they don't like to be alone, so they complain about it. Other guineas will be attracted to the noise, and hang around their flock-mate.
That hen in the coop looked surprisingly small. They seemed so much bigger when they were bobbing up and down the pasture, and roosting on the roof of the neighbor's barn. In the coop, she looked more like a miniature turkey and was the same size as one of the smaller chickens.
We tried a little more to encourage the errant four into the coop last night, but they were rattled enough for the day, and they flew off to a neighbor's field. We left the door open, and left the rest of the birds in the interior section of the coop.
Today, Kevin heard the calls of the guineas. He went out to find them in front of the coop. He moved slowly around to head them off from their preferred escape route, and one of them hopped onto the coop doorway, and Kevin said he knew he had them when that happened. Sure enough they all went into the coop! They had come back for the free meal, having remembered those seeds in the doorway, and likely hearing the hen inside. Once in, Kevin shut the door, and they are wandering around inside, eating seeds, thinking life is not too bad right now.
We still have a few more patches to do on the roof, and then we have to catch those things, and clip their wings. They are so skittish that we'll constantly be dodging them and having to pull them out of a panicked effort to batter their way through any light coming through the roof otherwise. I suspect I'll have to clip some of their secondary flight feathers, and not just the primary ones, to keep them from bolting for the door to fly past our heads.
I'm still puzzling over why Kevin was able to get those guineas into the coop. One person should not have been able to do so, and they should have bolted and flew off again. But they did not. They just went in. I'm also filled with immense gratitude, because the loss of all but one guinea would have been heavy.
We had no idea when they would be coming in, but thankfully we have a good amount of feed on hand, so it won't tax us to increase the feed going out each day.
I expect it will take a few weeks for the guineas to settle in, having been entirely wild, and now being confined, even though the coop is very large with plenty of space and roosting area. It would hold two, perhaps three times the birds we have in it, and not be crowded, so the guineas at least won't be cheek by wattle with the chickens.
The hens were already trying to establish a pecking order where the lone guinea was subject to them – I do not know how the equation will change with five guineas grouped together, but maybe the bully hen will find that it is a different proposition when there are five, and not one!
We spent part of the afternoon today making more patches. They could not be called repairs, there is no way to repair without replacing the whole thing. But the holes are now down to a collection of much smaller ones, and there is less daylight coming through the roof. We moved slowly while doing the repairs and the five guineas huddled together along the back wall, moving around to the wall furthest from us as we moved around the coop to put up more patches on the ceiling (the roof is not strong enough to hold the weight of a person to make repairs from above). This is not our coop, so this is the best we can do. It is a near fall-down that just happens to be on the property here, and which we had permission to use. We will replace it soon with a hoop house of sorts, I think. But for now, at least the animals are secure, and fairly well protected from the weather.
The guineas had settled down enough that they did not panic as we did the work. That is a major improvement. They weren't happy with us being in there. But at least they didn't fling themselves against the chicken wire front and try to beat their way through it!
So the day has taken shape in a way we had not anticipated yesterday. We hadn't realized how much more work the coop needed just for Guineas. And that is the third lesson. Coop repairs always happen when you least expect it.
But this is good. And we are satisfied.
The fellow we bought the quail from presented us with a transport cage with about 10 quail in it. One pretty gold pair of Italians, and a bunch of browns. The browns were mostly male. It is what he had at the age that he usually sold them (4 weeks). We needed females and told him so. He trotted off to his cages in the back, and brought out more females, a little smaller in size, to make up the difference.
So we had an Italian pair, and a brown male and 5 females. We took them home, and put two of the brown females in with the Italians, so we now have two cages of 4 birds, each with a male and three females.
You can really tell which females are older. Or at least, you could last week. They sing, and they get more aggressive at feeding time, throwing themselves at the cage when your hand comes near, and nipping at my fingers whenever I put my hands in or near the cage. It does no hurt. It is just annoying.
Not knowing the exact ages, and having disturbed the birds by transporting them for about half a day, we knew it would be a bit before the eggs started coming in. But just over two weeks after bringing them home, a tiny brown speckled egg appeared in the cage with the largest female. The most obnoxious female. The one that routinely tramples others in the cage to get to the feed, tromps in and out of the waterer, and flings feed in the most messy manner. I guess I'll keep the brassy little thing a little longer!
The egg was inexpertly colored, the color was thin, the speckles were tiny, and some of the color rubbed off when I washed the egg. But inside was a large dark yellow yolk. Ok, so the term "large" is relative in this instance! The yolk was actually about the size of a dime.
What do you do with one quail egg. NO! I did NOT want to wait until I had more! Where is the fun in that?? So I fried it, and ate it with my breakfast. (Kevin does not care for plain eggs, so he did not mind.) A tiny little fried egg perched on top of the sausage and potatoes.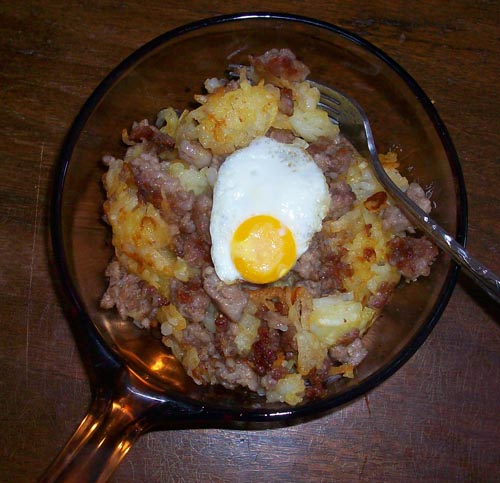 One little bite and it was gone. But the taste was excellent, and the egg yolk was smooth.
Waiting for the first egg from any birds you bring home is a daily reminder that maybe just maybe you have no idea what you are doing. Even though I've raised poultry before. Even though I've fed them without commercial formulated feed before. Even though I grew up with poultry. Every day I questioned whether they'd ever lay. Whether they were getting what they needed in order to produce. Did they have enough light, was it warm enough, did they have enough calcium, salt, protein, vitamin A? Was the feeding protocol we were using right for them to be able to lay well?
In the middle of the second week, I was in front of the cages running over the list, wondering if they'd be able to do the job, and I had a calming thought go through my head. "Laura. Stop questioning what you know. You DO know this stuff. You'd done it. Stop worrying about what you know you know." I had to laugh. Because I DID really know. But here were these little birds, dependent upon me to get it right, and I would not know I REALLY had it right until they began to lay – their purpose on our tiny farm.
If you bring home an eating machine, and it never produces anything of value for you, then you have not succeeded at farming. I could feed those birds, and keep them alive, and still fail, if they never laid an egg. Because eggs are why they are here. Eggs are how they earn their keep, and how they justify the cost of the grain and fodder they fling with abandon about the cages. If they don't produce, they are just an expense we cannot afford. And so it is with all our livestock… and until it actually happens, it is a gamble. I hate gambling.
The first egg is a landmark. The indication that yes, this is going to work. Yes, we did get it right. And yes, these little things will likely be worth the investment.
One egg today. In a few weeks, we are promised, we will have six eggs a day. Eventually the little banty hens in the larger cage below will begin to lay, and when they do, we'll put in a nest box, and let the banties brood some of the quail eggs.
From small things, come that which is great.
"aah-ee-aaa-ow!"
A thin and wobbly screeching noise drilled its way from the other side of the basement, and into our bedroom. It sounded like a cat, screaming in pain. My muddled brain could not quite place the noise as belonging to anything recognizable.
I was barely awake, and in the process of trying to decide if I REALLY wanted to get up or not. I knew the noise was coming from the small birds that we had installed in cages in the room next to the back porch, but it was unlike any poultry noise I'd heard before!
"Aar-Ee-Aa-Ow!" Whatever it was, it was a little more sure this time.
"AHR-EE-AA-OW!" Oh! It was the rooster. This time it at least sounded like it MIGHT be a rooster! But it was not the confident "Cockadoodle doo!" that one expects from a rooster who knows what he's about!
He's a pretty little thing. Red, blue, and black. I know just enough about their coloring to be confused, so I don't know the name of his coloring. But he is very pretty.
"AHR-EE-AA-OW!"Less thready, and a little less screechy now, the rooster notified us of the commencement of the day. Whether or not I wanted to get up, it was clear that I would be scolded until I did!
He and his two hens are in a cage indoors. The hens are also lovely, in an understated Jaqueline Kennedy sort of way. Nothing ostentatious. Lovely sleek feathers and conservative colors. Bantam hens are like that. They leave the flash and glitz to the men in the family.
We don't advocate cages for Poultry, as a rule, but this is a special case. Because the cage above them holds 8 quail – 2 roos, and 6 hens. One of the roos and one of the hens are a very pretty Golden Italian coloring. The rest are just ordinary Brown Coturnix. Good egg layers.
The Bantams are not confined because we like having them in cages. They are confined because we need them to be able to serve as Broodies. Those two Bantam hens, whom I am going to be forced to name after Audrey Hepburn (the black hen), and Grace Kelly (the silver hen), are needed, to brood quail eggs. And their own eggs, of course, we would not want to deny them the privilege of seeing what kinds of other interesting (if confusing) color combinations that blue and red roo can inspire in the gray and black hens. The only practical way to keep them where they can do this through the winter, is in a roomy cage, indoors.
"AHR-EE-AA-OW!" Well, it is clear that this little roo is not going to be crowing in an expected manner any time soon! Kind of funny, since I wrote previously about a rooster with a wobbly little crow (The Rooster Who Crowed Too Soon). But at least this little fellow does not feel compelled to roust us from slumber at 4:00 each morning, hours before the sun as even thought of rising! He is at least polite about that, and waits until the sun comes up.
His crowing stopped when I came in to feed them – having asserted his authority, he was content to stop announcing daybreak (and besides, it is harder to crow with a mouth full). He and his ladies are rather messy eaters though, scattering assorted seeds and grains across the floor of the room. Their companions, the quails in the upstairs apartment, are equally messy eaters, so the Banties cannot be blamed for the entire mess. We are working on ways to get them to adopt more acceptable table manners, but in the mean time, the mess needs sweeping daily. We'll be going to sprouted fodder grains soon, which should reduce the messiness since it is harder for them to fling that out of the cage in their hunt for the juicy bits.
The quail are quiet. They coo and chirp and crow quietly, and that is all. The crow is not like a rooster crow. It is softer and more gurgly. They do not wake me in the morning.
The Bantams are familiar territory. We've raised them before without purchasing commercial layer feed. The quail are a new adventure. Their diet is similar to the Bantams, they just need a little more protein – a few more tasty bugs. Harder to provide to indoor poultry than outdoor poultry, since the indoor birds cannot forage for themselves. I foresee a worm bin taking up residence in the basement room in the near future. Six fodder trays have already been set on the shelf below the Bantam cage, with dampened seeds for sprouting.
Since the rooster is still very young, I don't doubt his crow will change. In the mean time, he is amusing, and not too obnoxious, so he can get away with sounding like a scalded cat.
We live in a fast food world, where we expect a meal in 5 minutes, and can take an item from the freezer to the table, within a few minutes, and serve up a hot meal with very little effort. The quality is, of course, questionable, and we forget that homemade food has the potential to taste so much better, and that it is so much better for our bodies.
The primary reason for learning to prepare foods from scratch, is quality and health. Foods without preservatives, foods that taste rich and are full of genuine flavors (not counterfeit flavors created in a lab), and which contain real ingredients which shine through. I'm not here to persuade you of the benefits. I'm only here to suggest some of the skills that make it manageable.
I have experienced the process of learning to do things more and more by hand. I've watched other people go through this process also – first making bread, then making whole wheat bread, then milling flour to make the bread, then making the yeast to make the bread with the home-milled flour, and eventually contemplating growing wheat (most individuals really can't do this practically). The progress from buying the loaf, to making more and more of it yourself.
Most people will reach a point where they cannot go any further with it, and where they are comfortable with the compromise. This is pretty important, because otherwise you can really overwhelm yourself with tasks that just are not practical in our world, or in your particular corner of the world.
Slow food has benefits though, that are worth exploring. Most people are frustrated with the time it takes to begin with, until they learn skills for being able to do so within the time constraints that living, working a job, or raising children places upon them.
Prioritizing – You can't do everything. You have to choose what is most important, and get it done. That often means making sure a task that needs to be done today to be ready for tomorrow, is done on time.
Letting unnecessary things go – You can't do slow food when your life is filled with time-wasters. You have to let some idle passtimes go. If you already maximize your time, then you have to determine what you can let go that is less important than preparing healthy food. The wonderful thing about slow food is that there are many tasks which are relaxing when you learn how to do them in a convenient way, and which help form family bonds when you involve the children in the work.
Working slow tasks in around fast ones – Much of the "work" involved with slow food is waiting. Chop the ingredients, let something marinate and wait. Put the chopped items in a pot and let it slowly simmer for hours – stir it every half hour to hour, while you do other things. Use the waiting time to do other things, and organize your day so that you can maintain the slow food in a convenient way.
Planning ahead – You have to thaw the meat, mill the flour, render the lard, ferment the vegetables, start the stew, make the sourdough starter, or whatever else, ahead of time. You have to make it before you need it. You have to prepare ahead for many things. You have to stock in ingredients you might not otherwise use, and keep a wider selection of ingredients on hand. You have to start meals an hour or so ahead of time, sometimes more, depending on the food you are preparing. You have to think ahead. There are tricks to get by on those days when you just can't plan ahead, but for the most part, you need to be thinking a day ahead, or at least thinking about what is for lunch and dinner while you are preparing breakfast.
Patience – A necessary skill – and patience is a skill, not just something some people have and others do not. The more you do it, the more patient you become, so if you feel you are too impatient, don't worry! Just expand your skills a little at a time, and your patience will grow with it!
Learning skills to make slow things faster – Many "slow" tasks are slow because we don't know how to do them well, and because our kitchens are not organized to make them fast. We have the flour stuck behind the Mac&Cheese, and getting at the ingredients to make our own noodles or biscuits is inconvenient. A little reorganization, and some practice, and you can make gravy in less than 5 minutes, biscuits whip up in 3-4 minutes, and you can even get bread ready to raise in 5 minutes, and that INCLUDES putting everything back into the cupboard! 90% is practice. The other 10% is observing, researching, and listening, to learn ways to do complex tasks more quickly – for example, when making your own tortillas, getting the texture right (fairly soft) makes the job MUCH faster and easier. Tips like that, which you learn over time or which you pick up from others, can make a WORLD of difference in how much you can accomplish in a day!
Selecting the right equipment to speed things up – A crock pot, a rice cooker, a bread maker, a tortilla press, a good wheat mill, a good orbital mixer, a sturdy shredder, a fermentation airlock, the right potato masher, a ceramic non-stick skillet, thick bottomed pots that reduce burning, a flat ended wooden spoon to stir the bottom of hot pots more quickly, a pressure cooker, a deep fryer, a food dehydrator, a good meat grinder, a french fry cutter, etc. Good equipment saves time. Lots of time, and makes some tasks more fun, and safer for kids to participate. Equipment is like everything else with slow food, you don't do it all at once – you accumulate it one item at a time, according to the things you do most.
Learning skills layer by layer – Start by following recipes for dinner, instead of using boxes. Then advance to making or growing ingredients, one layer at a time. Taking on the whole picture (however you see the whole picture) all at once is overwhelming and certain disaster. Learn it bit by bit, and as your skills expand, you'll naturally progress to the next phase for as long as you feel the desire TO progress to the next phase. Any degree of more real food is good!
Producing your own food from seed, bulb, chick, calf, or wild animals is the natural conclusion of slow food – Growing food is the natural extension of preparation. It allows you to know completely what is in your food, and it is the ONLY way to know for sure that your food meets your standards, because NOBODY cares more about what is in your food than you do! Gardening, raising livestock, and hunting are vital parts to producing food from scratch.
Slow food offers the opportunity to create from start to finish, and to see the process and experience all the creative effort that goes into placing food on the table.
There are rewards to slower processes, delayed gratification, and learning to wait for what is best. Those rewards are beneficial for anyone, but most important for children, who have so few instances of slow rewards in the world we live in. Planting a seed, nurturing it, seeing some live, some die, harvesting, preserving, cooking, and enjoying the food they grew with their own hands, or tended for hours or days from idea to consumption is an invaluable experience for children. When they experience this over and over in their youth, they become more patient and more productive adults, because they know that the BEST things in life take time, and investment long before the payoff.
Slow food as a way of life requires changes in the home, and in our thought processes, and in the way we move through the day. But it brings so much to us in health, satisfaction, and experience, that it is well worth the effort to adopt another layer of it into our lives.
Because it is only when you have practiced it for a few years, that you realize that what seemed like complexity, was really simplicity.
A customer swapped me some fresh ramps for some of our product, so another adventure with wild food has begun. He shipped them to me damp and dirty – perfect to keep them fresh and perky during the trip from his door to mine. They were in prime condition when I received them.
One of the reasons I was curious to try them is because they seem to have a "love 'em or hate 'em" reputation. Having really enjoyed our wild garlic and wild onions previously, I wanted to know which camp they fell into, and whether there was anything special about them.
I planted about a third of them in two pots, since our garden this year is again a container garden. I cut up a third of them to put into a potato soup for dinner. Then I cut up the other third and laid them on my drying racks.
My hands do not smell much of the ramps – they actually smell more of the potatoes that I peeled. My eyes did not water when prepping them either, which I find a welcome difference from most onions. The room in which they are drying, however, is strongly pungent. As in, you open the door and the smell comes out to slap you upside the nostrils.
The Ramps smell like a cross between an onion and Elephant Garlic. You know, that sort of garlicky smell that Elephant Garlic has that is not QUITE garlic, and has an underlying nauseating note to it? I do not like Elephant Garlic because it lacks the savory flavor I love about real Garlic (and no, Elephant Garlic is not a true garlic). But that element in the ramps is not strong enough to put me off the way it does with the EG.
If you Google "cooking with Ramps" you find all sorts of recipes using ingredients that I do not keep in my kitchen. You actually have to dig a bit to find traditional uses of ramps, which is pretty much like onions or leeks.
Eggs, potatoes, biscuits, quiche, and grilled with mushrooms to pile on top of a steak are some of the traditional ways of using ramps. You can substitute scallions or shallots for ramps in any recipe, and vice-versa.
Ramps can be used fresh, or cooked. They also dehydrate well. A cousin of mine says that raw ramps can cause the same digestive affects as beans, so if you choose to slap some ramp leaves onto your sandwich while you are in the woods (or at the table), you may need to warn your family to run for cover in a few hours. I have not tested this out, it is purely hearsay from him, and from the uncle that showed him the patch of ramps where he discovered that for him, our uncle knew what he was talking about!
Our potato soup has some ground beef in it, and some Real Salt Seasoning Salt, some Meadow Mushrooms, and the potatoes and ramps. And butter. You cannot leave out the butter in potato soup. When was almost done, I added some heavy cream and flour mixture to thicken it a bit.
The finished soup tasted as though it had both garlic and onions in it. This leads me to suggest that you use Ramps in recipes that tend more toward garlic than toward onion, since they do not have much of the sweet taste of cooked onions, but more of the pungent flavor of garlic. We only used a relatively small amount in the soup also (it was a big pot of soup), and it flavored it strongly enough to really taste the flavor, but not enough to overpower. It seemed to go well with the Meadow Mushrooms, at least, if you like mushrooms!
We not only planted some of the full ramps, we also planted the root ends after I finished chopping up the ramps for the soup. Onion roots re-grow, so we will find out if ramps do also.
Ramps are a multiplier type bulb, so they will split when they reach a certain point in development, and multiply. They also set seed that drops and creates new bulbs. More like the mini-bulblets that wild garlic sets, and not like the skinny seeds that regular onions drop. They also tend to grow their bulbs downward into the ground, also like wild garlic, so the bulbs will be fairly deep in the ground. You have to dig ramps, you cannot pull them or you will just rip off the tops.
As one of the first green things to come up in certain areas in the spring, ramps have traditional importance in some regional cultures. For me, the interest is mainly that they are a wild thing that I can learn to use and cultivate, so that the culture is not lost. Since they are a popular item for upscale gourmet cooking among a certain segment of society, there may be a potential income opportunity in the future, if I should wish to produce seed or bulbs. Growing them will provide an advantage for our gardens also, because they produce so early in the gardening season, that they'll be producing while the traditional garlic and onions are thinking about sprouting.
Most sources state that ramps only grow in the eastern states, and north into Canada, but the cousin who warns about the flatulent affects of fresh ramps found them in the Pacific Northwest, so they are likely far more prevalent than commonly known. But then, in the PNW, there are some other spring plants that look very similar, so it may be that people there are just more cautious about harvesting them, even though the smell of the roots will tell you for certain what you have! Or, upon further contemplation, perhaps the Pacific Northwest just has more green stuff in the spring, so ramps are largely unappreciated there.
Having tried them, I'd use them again, probably in chicken, sauteed in butter, or over pasta. I think they go best with light dishes where the flavor of them is featured rather than lost, and in simple things where the flavors don't get so complicated that the pungency of the ramps conflicts with the other ingredients. I don't think I'd enjoy them whole as a dish themselves, since the flavor is pretty strong, but lean toward using them more as a seasoning.
I'll have dried ramps to use as seasoning through the summer, and next year, if my pots of ramps do well, I'll have a little more to cook with, dry, and to expand my containers of them.
I don't think I'll ever be an outright afficianado, but I'm pleased to have tried them, and pleased to be one of those people who does not hate them! And I am very happy to be able to grow them.
I could not find it in the wild – spring has eluded me where I was familiar with the wild areas. I've had my eye open for it for several years and still no luck. So when I spied it on the website of one of my suppliers, I snatched up a bunch of it along with the other supplies I was ordering.
Wild Onions. There is confusion over wild onions and wild garlic. More over wild onions than wild garlic, because wild garlic is pretty easy to identify – looks like tall straight chives, with round stems, smells and tastes like garlic (deep tiny bulbs, so you have to dig it, cannot pull it).
That is one of the key identifiers with both wild onion and wild garlic – their leaves are the opposite of the domestic versions. Garlic is round, onions are flat.
Wild onion also forms deep bulbs, and should be dug, not pulled, if you find it and positively identify it. Make sure you ID it using several descriptions with images from different sources before you consume it though, because while there are more than a dozen different kinds of edible wild onions, there are also one or two look-alikes that are harmful if you mistake the identity – be aware that there are signs to look for, and once you KNOW what to look for the ID can be made for certain, but make sure you KNOW.
Having ordered it, I had no idea what I'd be getting. I received a bunch of oniony looking things, with flat V'd leaves (not tubular like domesticated onions), and with lovely white bell flowers drooping from the tops. Seven of them had good root systems still on them, so I planted them in a container.
The eighth had no roots. I chopped it up and fried it in butter with some Hedgehog mushrooms. Chopping it up did not make my eyes water. I think that is worth noting!
It had a mild onion flavor, which was very good with the mushrooms.
After dinner, I did a net search to ID the specific type. It appears to be Allium Triquetrum, which is a non-native plant in the US. Grows in the south and along the coast, quite far north. It is considered to be an invasive species in California – so if you live there, you might especially wish to learn to identify this weed, and make a habit of digging it up and bringing it home for dinner.
If you live elsewhere, various types of wild onion grow almost everywhere, and wild garlic is also widespread. Both are worth looking for – not just because they are wild food, but because they offer slightly different flavors when prepared.
Wild onions usually pop up with the early bulbs, right as the ground thaws, and they set flowers 6-8 weeks later. If you see something that looks like it might be wild onion or garlic, pinch a leaf and see if it has that distinctive smell. You'll know! If it doesn't say "ONION!" or "GARLIC!" immediately to the smell centers of your brain, then it isn't onion or garlic! If it does, then get a sample to take home to ID. It is best if you have the bulb, leaves, and flowers if possible (in fact you will have a difficult time IDing wild onion without a sample of the flowers).
If you forage wild onions, make sure you watch out for pesticides and herbicides. If they look skinny and wimbly, then they may not be good for you unless you flush them out by soaking the roots in water for several days. They typically are somewhat droopy in the leaves, but very lush and clustered together, much like Daylilies, but a slightly smaller leaf.
I'll be encouraging my little pot of wild onions to reproduce, and I'll be on the lookout for other varieties and more wild garlic.
Ok, so a few Americans do. Maybe a third. If you push it.
The rest of America doesn't even know there is more than one type of mushroom! To them, a mushroom is either a dry tastelessy fungusy bit of foam rubber, or a slimy gray fungusy flavored bit of rubbery silicone. If they are particularly adventurous, they may know that Portobellos and Crimini mushrooms exist. A few very exotic individuals also know there is something called a Shiitake out there that people are reputed to actually eat.
That is most of America! I used to be one of them! It is no wonder I HATED mushrooms. Nasty things, only barely edible if you could chop them small and hide them where you did not have to actually TASTE them, or feel the slippery gooshy feel on your tongue or teeth.
The world outside of America understands that a mushroom is not just a mushroom. That the white button mushroom is the WORST of the mushroom clan, and that there exists an entire WORLD of mushrooms that are actually worth putting on the plate.
Portobello and Crimini mushrooms taste pretty much like a white button – unless they are grown without chlorine, in which the flavor is fuller, and more complex (a little fruitier and more savory). But to me, pretty much just another "hide them wherever you can" mushroom.
Of course, as a child, and as an adult, I'd tried Meadow Mushrooms, and they fall into the same camp as the nasty White Buttons. They are prettier though, with lovely pink gills, and I chop them up and put them into meat gravy and pretend they are not there!
Shiitakes are reputed to have a "smoky flavor". I can't taste it. They are just a mushroom. Fresh ones disappear into mixed dishes and you can't taste them. Canned ones are just nasty slimy things that look like canned leaches. Dried ones are easy to snip up with a pair of scissors into any dish that has a water or broth base, and they'll reconstitute as the rest of the meal cooks. But I can't really identify anything spectacular about the flavor, they just taste like a mushroom to me, and I do not particularly like them.
The first mushroom I tasted that I did not hate was a King Trumpet Oyster Mushroom. A fat stemmed oyster mushroom with a little brown cap on top, and tiny gills running barely down the stem. It has a slightly sweet flavor. I didn't hate it because the mildness of the flavor makes it easy to toss it into pretty much ANYTHING and not have to dwell on the fact that it is still, when all is said and done, a mushroom.
Then I tried Chanterelles. Ok, so I am still not sure what all the fuss is about where Chanterelles are concerned. While I do not hate them, and I find that they have a slippery texture but not the gooshy sliminess of the white button (a more firm bite), they still taste like a mushroom – sort of fruity, but fungusy. It is the fungusy part I have never appreciated in mushrooms, so I failed to become a fan of the Chanterelle – but I do not actively dislike them either.
White Garden Elm Oyster mushrooms do not seem to have any flavor at all to me once they are cooked and added to a dish. If I chop them finely, I do not even know they are there. Another mushroom I do not hate. But I cannot say I like it either. Later, when I tried Angel Wing Oysters, they seemed pretty much the same – I simply cannot taste them in a finished dish.
Then I tried Paddy Straw mushrooms. Oh, not the slimy flavorless canned ones. Dried Straw Mushrooms. I made a simple gravy with them. They knocked it out of the park! A full, dark, almost meaty flavor. WOW. A mushroom I actually LIKED. I don't love them. But I actually like them!
Russulas fell into the "I can't taste them" camp. Of course, you must understand I NEVER feature mushrooms in a dish that is just mushrooms. Just can't make myself go there! Cut them up, cook them in butter, toss them into something that I hope will complement them. Or at least which won't end up with a clash of flavors that ruins dinner entirely – and the Russulas that taste sweet raw have such a mild flavor that they disappear completely when mixed with other ingredients. Russulas do not offend me!
Various Agaricus species were not any different than Portobellos, when prepared fresh. When dried though, they developed a more savory flavor. Almost like the Paddy Straw. Except the Almond scented ones. Some of them retained some of the almond flavor and let it into the dish. Flavor good. Texture unappealing to me – too mushroomy. But OH, they smell just heavenly!
Slippery Jacks have presented two ways – one is fairly tasteless to me. I cannot tell if they are a good mushroom or not, because I honestly cannot taste the flavor. They sort of lose themselves in whatever we put them into. The other type has been like a mild Porcini, with a savory flavor.
Maitake has a sort of spicy apple smell and flavor. Like a fungusy spiced apple with a faintly nauseating undertone. Very odd. We put it into a meatloaf which was baked in a pumpkin. It was good. But I am still uncertain whether I liked the Maitake or not!
Gold Cap Stropharia (Stropharia Ambigua) smells just like the bottom of a forest floor. That deep rich moldy dirt smell that rises up right after a rain. They taste about the same, but with a sharp strong flavor. I cannot say this is a mushroom that I like, but I did not hate it either, as long as I do not use too much in a dish – they seem to work best when combined with other mushrooms. I am still working on flavor combinations to see if there is a dish that I'd actually love to use it in. It is such an earthy flavor that it can easily overpower whatever you add them to.
And Blewits – they just taste like a mushroom to me! Maybe a stronger more robust flavor than white buttons, but just a mushroom. I manage to eat them without hating them. I've used them fresh and dried, and they are a usable food either way.
I think I might eventually learn to like Porcini. I cannot describe the flavor, because there is nothing to compare it with. Hints of savory, with the classic mushroom flavor, but an edge of something else too – almost but not quite buttery. It seemed to taste better in a chicken and rice dish than it did in a dish with red sauce and beef. The texture is also more palatable than other mushrooms, when cooked it has a firm texture that is less slippery and gooshy than the detested mushrooms. (UPDATE: I like Porcini fresh, sauteed in butter and served with something cream and chicken – like Chicken Porcini Alfredo. In beef or pork dishes it is ok, but not quite as good. Dried Porcini is better in beef than fresh but still has a distinctive buttery edge to it that other mushrooms do not. Porcini is better without onions.)
Gray Oyster Mushrooms (Pleurotus Ostreatus), and Phoenix Oyster Mushrooms (Pleurotus Pulmonarius) both taste about the same to me when cooked, though they SMELL differently from each other. Grays seem to have kind of a sweet ball point ink smell that many mushrooms have, and no other distinctive smell. Older Oyster mushrooms may begin to smell a little fishy. But none of them taste fishy. Their flavor is so mild it seems to take on whatever you prepare with them. They have a firm texture, very chewy when fried in butter or cooked in soup, either one. Sort of like clams, or maybe calamari. They do fry nicely in butter, they absorb less of the butter than many other mushrooms, and end up firm, with a golden color.
Freckled Dapperlings (Lepiota Aspera) have sort of a sweet candle smell when cooked, and a mild flavor. They were a pleasant surprise when we found them, and discovered that for us, they were actually edible (they should never be consumed with alcohol, they will cause illness that way).
I don't understand the hype about Matsutake. It has a piney smell, but the odor seems to fade fairly rapidly after gathering (this is true of many mushrooms, including the Almond scented Agaricus species). It is a firm mushroom – not quite as tough as Oyster, but firmer than Chanterelles. The ones we tried did't have a stand out flavor, we had to use them either in larger pieces, or we had to prepare them with ingredients that do not cover them up. We tried Matsutake that had caps just starting to open, so it is probable that the Grade 1 Matsutake with unopened caps may be stronger flavored.
I've also had various types of Puffballs, gathered in the wild. They taste just a little less fungusy than a white button, and are prepared about the same way. The texture is a bit softer, and they can really absorb the butter!
Black Trumpets just taste like mushrooms to me. They are raved over, but maybe I missed the point.
Yellowfoot Chanterelles also just taste like Mushrooms. Again, I can put them into anything and hide them pretty well, so I'm ok with them.
Hedgehog Mushrooms are pretty good. I really said that, didn't I? They smell sort of caramelly when cooking, and have a vaguely sweet flavor. If they are dried, they end up having a chewy meaty texture when cooked that is not slippery at all (remove stems if drying them).
Brown Beech Mushrooms just taste like mushrooms. You have to cook them, so they end up like little slimy rubbery things, but I can disguise them in almost anything so we get along.
And MORELS. Ok, so I really LIKE Morels. They do not taste like mushrooms! Fried in butter until they are browned, they have a sort of meaty texture, and they taste savory and not mushroomy at all. I hate to get on a hype bandwagon with everyone else, but these are truly unique in the mushroom world. At least, to me, so far. I'll make sure and note it though if I find others that have a similar flavor and texture because it is worth knowing.
Shaggy Mane is a WONDERFULLY flavored mushroom. Sort of savory almost chickeny flavored when fried in butter. One of the only mushrooms to make me say, "Wow!" when I tried it! Not at all "mushroomy".
The cousin to Shaggy Mane, Coprinopsis Atramentarius, which is also known as Tippler's Bane because it reacts with alcohol, tastes nothing like Shaggy Mane, but it is mild, barely flavored, with a very smooth and slippery texture.
Hawk's Wing is another meaty flavored mushroom, similar to Portobello.
Aspen Bolete is similar to Porcini without the buttery edge. We remove the pore surface, and discard the stem – the stem contains chemicals that the tops do not (it stains differently than the cap), so we are just using the cap, which is thinner than a King Bolete. It dries well, though grayish. We have never experienced a reaction from these, but we also cook them well.
I found a good sized cluster of Giant Sawgill, and we cut them up to use (too big to cook whole). They have a very bland, slightly sweet flavor, no fungusy edge to them, so I can tolerate the taste very well. The texture is very firm, very much like calamari.
I've also eaten Floccularia luteovirens, which I refer to as Yellow Shaggy on my mushroom website. I cannot distinguish an identifying flavor in it.
Wine Caps taste like a mushroom to me, no different than Criminis, though many people say they have a richer flavor. And I've also had Lactarius deliciosus, and could not distinguish it from other mushrooms in flavor or texture.
To me, the Fried Chicken Mushroom (Lyophyllum decastes and sometimes Lyophyllum loricatum) is also unremarkable as a mushroom. It does hold texture better than some. I did not have it batter fried, but in a soup with vegetables and meat.
I've consumed many others now, and cannot remember the names of them all, and the ones I cannot remember are for the most part just mushroomy or mild flavored mushrooms that are not distinctive in flavor.
Part of the problem with mushrooms for me is that the essential thing about mushrooms that every mushroom lover raves over, is the very thing that repels me. The fungusy element. The thing that reaches into your nose and tickles your brain saying, "I am MUSHROOM!". That thing. That is the part I do not like! So the less pronounced that is, the more I like a mushroom.
It has been disappointing – being mycologically challenged like this. Because I read descriptions of mushrooms all the time. They describe the appearance, the odor, and the flavor. I get all excited when I read the descriptions, because they make them sound SOOO INCREDIBLY YUMMY!
I've always had somewhat of an encyclopedic mind, so much so that I can recognize many mushrooms and identify them accurately the first time I see them. So those descriptions stick in my head. And they've been responsible for some amazing disappointments!
"Fragrant", "Pleasant", "Fruity", and other words are used to describe an odor which, when held to my nose, simply says, "FUNGUS!". I really wanted it to smell like the description, and it doesn't. It just smells like laundry left in the washer one too many days during the winter in a damp climate.
Same with the flavor. I really WANT to taste a mushroom that really does taste amazingly delicious. But in the end, (with the exception so far of Morels) they always end up tasting like mushrooms – some have an edge of savory or wonderful flavor, but the mushroom still lurks and takes away the peak of enthusiasm.
Note: Since writing this, I have tasted Shaggy Mane mushrooms, and THAT is the mushroom that for me, is not mushroomy, but truly delicious.
The one odor that did not disappoint, is "Almond". I've smelled about three or four different kinds of Agaricus mushrooms which smelled of almond, and let me tell you they smell LIKE ALMOND! Sweetly nutty and fruity, they smell absolutely wonderful. The flavor is less enticing, being only lightly almondy, and still possessing the rubbery fungus texture and flavor of other Agaricus mushrooms. But the gorgeous smell means I never tire of finding them!
One day, perhaps I'll meet the perfect mushroom. One that actually tastes as delicious as the description. But until then, I'll keep eating them – because they make a huge difference to my health – and I'll keep growing them and hunting them and learning about them, because the effort to do so has been utterly fascinating, and may eventually prove lucrative.
Remember, if you have sensitivities to mushrooms, not all mushrooms cause the same sensitivities. Many mushrooms also cause sensitivities only if undercooked, or if consumed with alcohol, and mushrooms grown under conifirs are more likely to cause sensitivities than those grown in compost or under hardwoods.
So if you are a mycophile (mushroom lover), go try some new mushrooms and find some new flavor sensations. If you are a mushroom hater, then go try some new ones anyway! You may just find that you don't hate all mushrooms. And one or two might just surprise you.
To purchase spawn or learn about cultivating mushrooms, visit our mushroom store at: RareMushrooms.com