Click to Download Your Free Heritage Pickling and Culturing e-Book Now!
Instant Download, NO Registration Required!
A Better Way for Airlock Fermenting
In the fermenting world, debates rage over topics such as "anerobic environments", "airtight containers", and "traditional methods". The debates tend to center on two extremes:
One point of view is that traditional fermenting was done under very imperfect conditions, and following a few simple rules can yield success in most situations. In fact, tradition does teach us that if food is kept under brine, it ferments just fine most of the time. A few climates, or home environments, may make this more challenging. A few people with specific health issues may have problems with foods fermented this way. But this IS true traditional fermenting, imperfections and all.
The other point of view is that in order to achieve a true "anerobic ferment", you have to have an "airless environment", in an "airtight container". A system is recommended which is costly, awkward, and which is not in fact, an airtight container at all (explanation is here). It does, however, manage to achieve one thing: It limits air exchange, and microbe exchange from outside the container, and reduces the chances of some kinds of errors. It does this by allowing gas buildup to escape, while eliminating the need to open the jar to release it, or to leave the cap off. Since the container is clear glass, it also allows outside observation – this one factor is perhaps the most important, as it helps people keep their fingers out of it and not mess with it while it is in the initial fermentation stages.
I am not a proponent of either method. I know that it can be done well, either way. I know that certain things REQUIRE an open fermenting environment – that is, they will not work in an airlock system (vinegar, and wild yeast are two of those things). There are other instances where an open environment is preferable, to achieve a specific desired result. There are other instances where an airlock environment is preferable, to achieve a different specific desired result.
That said, many people prefer an airlock system, and I do like the ease of an air-release system, because I don't have to fuss with the jar to keep it from getting messy! So I began looking for an alternative to the high priced airlock systems. Sure enough, people were making their own airlock caps to go on mason jars. But they had some of the same disadvantages as the expensive systems – they are clunky, and awkward, and the water lock stuck up out of the jar in a very cumbersome manner. I KNEW there had to be a better way, and I could instantly "see" it in my mind. A one-way valve is simpler, more compact, and requires no special instructions to properly operate it. It just works.
The problem is that nobody makes a one way valve for a mason jar lid. And nobody makes a one way valve of the type that is needed, in the configuration needed, at an affordable price! Similar one way valves are available (the concept is scientifically sound, and frequently used in many applications), but they cost upward of $10 apiece. NOT an affordable option, since our goal is to make fermenting MORE affordable, not less!
Long story short, in a trip through a hardware store, I found the pieces I needed, and was able to source appropriate versions of them, to assemble together to make a simple, elegant little Fermenting Jar Cap that goes on any standard size mason jar (Narrow or Wide Mouth). This product is now available for sale on our Fermenta Cap site, under the name of Fermenta Lock.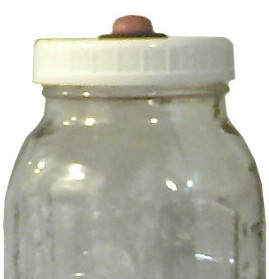 While we are making and selling them, we are not yet able to sell it at the price that I'd like to be able to sell it, but it is still far less expensive to assemble the parts than are the more costly systems.
A competing Pickling system sells a 1 quart pickling jar and dunker for $23. It is a one quart jar, and nothing more. Price goes up for larger jar sizes, and you have to buy one for every size you need, and more than one if you want to ferment or store more than one item at a time.
In comparison, Wide Mouth Size Fermenta Lock is $8.50, which includes an airlock cap, and a storage cap. A Fermenta Dunk plus Dunk Extender in the same size, is $5.75. So far we are up to $14.25. Add a Quart Mason Jar, for just under $1, or a Half Gallon Mason Jar, for $1.60, and we are still under $16.00 for everything (we don't sell Mason jars – this is the price for which they typically are sold in stores).
The Fermenta Lock cap is interchangeable. You aren't stuck spending $23 for one size jar, $25 for another size jar, and so on, and having to buy more and more of them to ferment different sizes or to ferment and then store.
A couple of cases of standard Mason Jars, or jars saved and salvaged from recycled sources give you all you need. Two Fermenta Lock Caps, and a few Fermenta Dunks and Extenders keep a range of things going, and you can swap out the lids and only use the expensive stuff during fermentation times, without having to tie it up for storage as well. Easy, flexible, and cost effective.
You can also assemble things one piece at a time, according to whatever you think is most important – get a Dunker this month, an Airlock Cap next month. No need to spend a lot all at once.
Certainly, our competition may disagree with us, but we think this is definitely a "better way", and it makes Fermenting more affordable, and more predictable, no matter how you choose to do it!
We won't stop there. There are more things we can see that we need to do, and we've been researching more parts, and suppliers, and thinking creatively to solve problems to provide good solutions for more flexible pickling and fermenting choices, for wholesale purchase of our products, and more. Because we keep looking at other aspects and thinking "There has to be a better way!". Usually there is. Give us a little time… we'll find it!